Air Miles Cash is a program set up in 2012 that allows Air Miles collectors to redeem their reward miles instantly. For every 95 Air Miles in your Cash account, you can get $10 off your purchase right at the checkout. Keep reading to hear how I scored a brand new Canon Megatank printer (retail $450 Canadian) for only $80 out of pocket, when my old printer died a sudden and unexpected death.
This post may contain affiliate links, which means I make a small commission if you decide to purchase something through that link. This has no cost to you, and in some cases may give you a discount off the regular price. If you do make a purchase, thank you for supporting my blog! I only recommend products and services that I truly believe in, and all opinions expressed are my own. As an Amazon Associate I earn from qualifying purchases. Please read my disclaimers for more information.
What Happened to my Old Printer
We had an HP Officejet 6500 for many year. Truthfully, it was a pretty decent printer. The print quality was good. Speed was okay. It could photocopy and scan, with a glass flatbed and a document feeder. It printed on both sides of the page, which is a must.
Then out of the blue, it started making the most alarming banging noises when I turned it on one day! The print head was whipping back and forth inside, crashing into both ends inside the printer.
I turned it off, and hoped the problem would go away if I ignored it. Sadly, that was not the case.
I did a little online research, and discovered it was a problem with a thin plastic thing inside called the encoder strip. A few YouTube videos later, and I was pulling apart my printer to have a look. Sure enough, the end of the encoder strip had torn. The video said a little tape and feed it back in, and it would work as good as new.
The video lied to me.
I spent at least a few hours trying to fix this thing, but no luck. I debated taking it to the local computer repair shop, but this printer is many years old. And truthfully, I'm sick and tired of paying over $100 every time I need to replace the 4 ink cartridges!
Canon Megatank G7020
I did a lot of research online about new printers, including Consumer Reports.
In the end, I decided to buy a Canon Megatank G7020 printer. It has everything I wanted:
Prints on both sides of the page.
Photocopies and scans, with a flatbed scanner and a document feeder.
NO INK CARTRIDGES!!! Did I mention how I hate spending money on ink? The huge "mega" tanks on this printer hold enough ink to print about 6,000 pages in black in or 7,700 in colour. That will last us for years!
Comes with ink. Not only does it come with enough ink to fill the tanks to the top, but it also comes with two extra bottles of black ink.
When the day comes (or the year!) that I need to replace the ink, it's STILL cheaper than HP cartridges and they'll last much longer. The current replacement cost for all 4 bottles of ink (magenta, cyan, yellow and black) comes to only $72.
Wireless, so the kids can print their homework from their rooms, and we can print from our phones anywhere in the house.
Prints borderless photos, with a separate paper feed for photo paper.
It also faxes, but this is not a feature that we typically use.
It's a great looking printer. Maybe the appearance shouldn't matter, but it sits right next to my desk, so I see it for hours every day.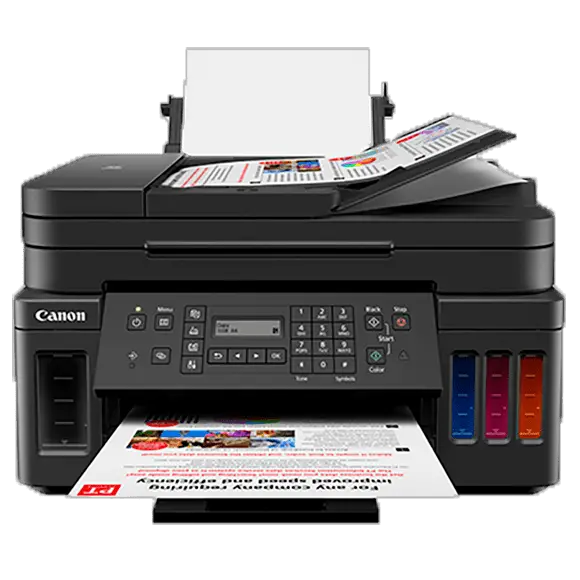 Buying my Canon Megatank Printer for only $80
Now that I knew what printer I wanted to buy, I shopped around online to find the best price.
Everywhere I looked, it was $450 – Amazon.ca, Staples, Best Buy, and more.
I guess I shouldn't be surprised. It's a brand new model. The Canon website actually lists the MSRP (Manufacturer Suggested Retail Price) as $529.99 Canadian, so the $450 I saw in all the online stores is presumably a promotional price.
Air Miles Cash
When you have an Air Miles card, you have the choice of allocating your rewards between "Cash" and "Dream" accounts. The Dream Miles can be used for flights or purchasing products directly from Air Miles. The Cash Miles can be used as a discount at stores. That is, for every 95 Air Miles Cash, you can redeem them for $10 off your bill at participating stores.
The set-up between Cash and Dream miles is in the Air Miles website, and stays at that allocation for all future rewards earned until you go back and update it. Can't decide? You can choose both, so if you earn 20 Air Miles, you could allocate 10 to your Cash account and 10 to your Dream account.
We have our account set at 100% Air Miles Cash. For our large family, it seemed like trying to get flights through Air Miles would just be too challenging.
In 2019 we redeemed over $2,000 worth of Air Miles Cash! In contrast, we took one family vacation, which was over the Christmas holidays. I think it would have been difficult to get flights through Air Miles at the high season. Let me know in the comments below if you agree.
Buying my Printer with Air Miles Cash
Air Miles has a large number of Cash Reward Partners, including grocery stores, gas stations, department stores, dining out, home improvement, and more. Of course for my printer, I was interested in Staples.
Frequently we use our Air Miles Cash to get discounts on gas for the car. But over the past many months of COVID lockdowns and working from home, we just aren't driving all that much. Plus we're making almost all our purchases on the credit card, rather than using cash. So we've built up a lot of Air Miles in our Cash account.
My only concern was, how many Air Miles could I redeem at one time? Usually I'm just redeeming a bit here or there. But this printer was a big purchase, and I had a LOT of Miles.
But no need to worry. According to the Air Miles website, you can redeem up to $750 worth of Miles in one day!
My local Staples store had the Canon Megatank G7020 printer in stock.
At the cash register, I asked to redeem my Air Miles Cash. She asked how much I wanted to redeem (in $10 increments). I wanted to redeem as much as I could.
That got me $370 off my $450 printer!
It's the little wins in life that can make you feel pretty good. And because of that we say hooray for using your Miles to get $370 towards your purchase at Staples Canada!

Source: email from Air Miles
Saving Even More
Just after that, one of my personal finance blogging friends tweeted, asking about recent experiences saving money. I replied about my great deal on the Canon Megatank printer. Air Miles picked up on that, asked me to DM them, and then credited my account with another 100 Cash Miles! That's worth just over $10 on my next purchase.
In researching this article, it's exactly 2 weeks after I made my purchase, and I see Staples has my printer on for only $400 now. That's $50 less than the sticker price when I bought it. It's possible that I could ask the store to honour that sale price for my purchase.
If I'm successful, and including that $10 Air Miles bonus, that would mean I effectively got a new printer for only $10! And no ink cartridges to buy ever again.
Air Miles Credit Cards
In addition to signing up for Air Miles, which is free on their website, you really need to have an Air Miles credit card to build up miles as fast as possible.
As with any credit card, you MUST pay it off in full each month by the due date. If you can't do that, the benefits of having any kind of reward, Air Miles or otherwise, will be eaten up by the cost of the interest on your credit card.
With that said, I'm only recommending the following credit cards to those who will pay off their balance every month.
Air Miles Mastercard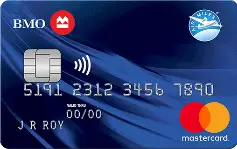 This great BMO® AIR MILES®† Mastercard®* has some amazing features:
A welcome offer of 950 Air Miles – that's worth $100!
Earn 1 Mile for every $20 spent on your credit card
Double the Miles for every $20 spent at participating retail partners
No annual fee
Purchase protection and extended warranty on credit card purchases
Discount car rentals
Air Miles Mastercard for High Income Earners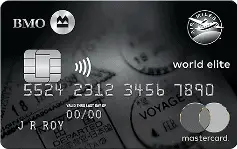 For those with an individual income of over $80,000 per year, or a household income of over $150,000 per year, this BMO® AIR MILES®† World Elite® Mastercard® has even more features:
A welcome offer of 2000 Air Miles – that's worth $210!
Earn 1 Mile for every $10 spent on your credit card
$120 annual fee waived for the first year
Complimentary airport lounge access
Travel and medical protection
BMO concierge service
No fee or roaming charges at over 1 million wifi hotspots around the world
Purchase protection and extended warranty on credit card purchases
Air Miles Mastercard for Students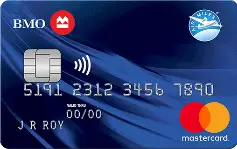 The BMO® AIR MILES®† Mastercard®* for Students is the credit card my two university-aged kids have. It has all the same features as the first Air Miles Mastercard – earn $1 for every $20 spent, no annual fee, double the Miles at participating retail partners, purchase protection and extended warranty.
As soon as they turned 18 and graduated high school, I encouraged them to apply for this credit card. They are starting to build a good credit history by having small recurring payments, such as their cell phone bills, charged to their card. Then they set a reminder on their phone to pay off the credit card in full before the due date.
TL;DR Summary
We're huge fans of the BMO® AIR MILES®† World Elite® Mastercard®! It gave us enough Air Miles Cash to buy a $450 Canon Megatank G7020 printer for only $80 cash! I love my new printer, and I love it even more because I saved so much money.