This delicious cinnamon hot chocolate mix makes enough for a crowd! Forget the store-bought stuff, with additives you can't pronounce. The perfect drink to warm up after sledding, and festive enough for gift giving!
You can scoop it into decorative mason jars, perfect for teacher gifts. Or put the whole recipe into Ziplock-style freezer bags, perfect to take back country camping. Mix it up by using pumpkin spice instead of cinnamon for a classic fall flavour.
Not for you? See all my free recipes!
This post may contain affiliate links, which means I make a small commission if you decide to purchase something through that link. This has no cost to you, and in some cases may give you a discount off the regular price. If you do make a purchase, thank you for supporting my blog! I only recommend products and services that I truly believe in, and all opinions expressed are my own. As an Amazon Associate I earn from qualifying purchases. Please read my disclaimers for more information.
Why Make Your Own Hot Chocolate Mix?
Cheaper than Store-Bought
Much like the other recipes here in Money In Your Tea's "Recipe Box", making your own will save you money over buying store-bought hot chocolate mix. While prices vary by region and country, in general it's cheaper to buy individual ingredients than to buy pre-packaged foods.
Real Food Ingredients
Here's a picture of a popular brand of hot chocolate mix.
The first ingredient, sugar, seems reasonable. But what are "glucose solids" as the second ingredient? We keep looking and see hydrogenated coconut oil, cellulose gum, dipotassium phosphate, silicon dioxide, flavour and artificial flavour, and so many more things that I can't pronounce, much less identify what they are.
When did food get so complicated? That's what I love about making your own at home, you know what's in it.
Easy to Customize
Another benefit to making my Cinnamon Hot Chocolate Mix at home, is how easy it is to customize it! You can substitute pumpkin spice blend for cinnamon to get that classic fall flavour. Or add in some real vanilla bean. Try a pinch of cayenne pepper for a classic Aztec drink. Mix in instant coffee if you want the whole batch to be mocha flavour. Experiment with crushed candy cane, cinnamon hearts, or a variety of flavour extracts to make a different mix each time.
If you do, please let me know in the comments so we can all share!
Surprising Uses for Cinnamon Hot Chocolate Mix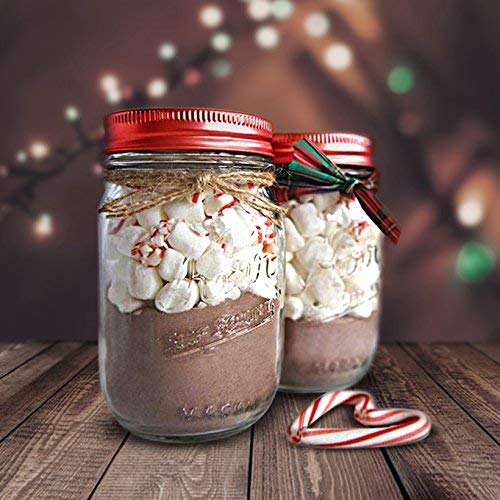 There's nothing better than a steaming mug of hot chocolate on a cold winter day. Warm up after a morning making snow angels and snowmen, an afternoon of sledding, or an evening of carolling. Or just curl up in your jammies by the fireplace, while the storm rages outside.
But this recipe makes a large batch, which is great for back country camping trips all year long! Simply put the whole batch in a Ziplock-style large freezer bag – then put it in a second bag to ensure against punctures and accidental spills in the camping pack. On our family's annual "Dads and Kids Canoe Camping Week" I feel better knowing that everyone is getting at least this one source of dairy every day, since it's not practical to take milk into the woods.
Cinnamon Hot Chocolate Mix is also a great teacher gift! Teachers get bombarded with new mugs every year, so instead give them something to put in the mugs they've already got! Simply scoop the mix into a pretty mason jar, decorate with a ribbon or bow, and you're done!
Another great idea is to make fundraiser hot chocolate Santas, like the ones my daughter did a few years ago! They were a big hit at the church bake sale, and helped raise funds for an orphanage in Honduras.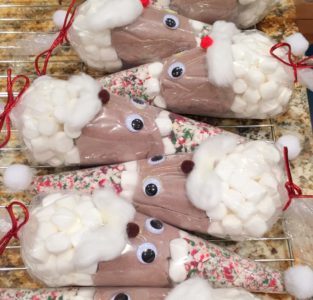 Cinnamon Hot Chocolate Mix Recipe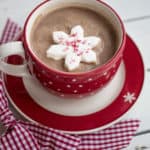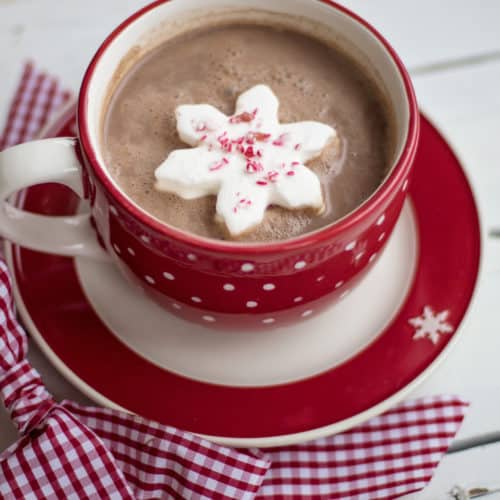 Print Recipe
Cinnamon Hot Chocolate Mix for a Crowd
Nothing compares with the taste of a steaming mug of cinnamon hot chocolate, whether you're curled up by the fireplace, coming in from an afternoon of sledding, or back country camping with the kids.
Ingredients
4

cups

white sugar

2

cups

cocoa

8

cups

powdered milk

(about 800g or 28oz.)

2

tbsp

cinnamon
Instructions
Put the milk powder in a blender or mixer about 1 cup at a time, and blend for 15 seconds. The finer you blend the milk powder, the better it mixes when you make hot chocolate.

In a large mixing bowl, stir together sugar, cocoa, powdered milk, and cinnamon.

TIP! For variety, try subsituting pumpkin pie spice instead of cinnamon for that classic fall flavour!

Scoop Cinnamon Hot Chocolate Mix into glass mason jars or other container. These make pretty teacher gifts with a festive ribbon or bow on the lid!

For camping, one recipe will fill a large Ziplock-style freezer bag. Remember to put the bag inside a second bag just to ensure against punctures or spilling.

To make Cinnamon Hot Chocolate, scoop 2-3 heaping spoonfuls of mix into a mug. Pour in boiling water, and stir!

Top with marshmallows, whipped cream, or add in a candy cane! Parents may like to try half hot chocolate and half coffee, for a nice mocha flavour. Or make "adult" hot chocolate with a little splash of mint liqueur, Baileys, Cointreau, Kahlua or whatever is in your cabinet.
Notes
My family takes a bag of this Cinnamon Hot Chocolate Mix every year on the annual "Dads and Kids Camping Trip"!  It's enough to last a crowd of kids for the whole week, and I feel better knowing they get some dairy with the milk powder in this recipe.
---
Read all my free recipes for more money saving and delicious ideas!
Let me know in the comments if you've tried it!