The leaves on the tree outside my window are just starting to turn yellow. But the cooler days and chilly nights make it undeniable that the Christmas season will be here before we know it. Christmas is a lovely time of year, gatherings of friends and family, delicious meals, and decorative lights. But it can also be a stressful time of year, especially if you're worried about how to pay for it all. Take my 10-week debt-free Christmas challenge to help you finish the year with more peace and joy!
This post may contain affiliate links, which means I make a small commission if you decide to purchase something through that link. This has no cost to you, and in some cases may give you a discount off the regular price. If you do make a purchase, thank you for supporting my blog! I only recommend products and services that I truly believe in, and all opinions expressed are my own. As an Amazon Associate I earn from qualifying purchases. Please read my disclaimers for more information.
How Much will you Spend this Christmas?
The first step to a debt-free Christmas is estimating how much you will spend.
Let's say you are a family of four, and you will spend $100 on gifts for each person. In addition, you estimate another $100 on decorations, specialty food, and gas to visit out-of-town relatives, and other incidentals.
That means you will need to save an extra $500.
Ten weeks before Christmas day is October 23. That's coming up quickly! If you want to save $500 before Christmas day, then you will need to set aside $50 per week.
Pick up my FREE 10-Week Debt-Free Christmas Challenge Tracker!
Setting aside money isn't the most fun thing to do heading into the season. But it can be very satisfying to check off those boxes each week and see you money grow!
I've designed this convenient printable just for you, to help keep you motivated and on track for a debt-free Christmas this year! I have two versions for you – saving $500, and saving $1,000 by December 25.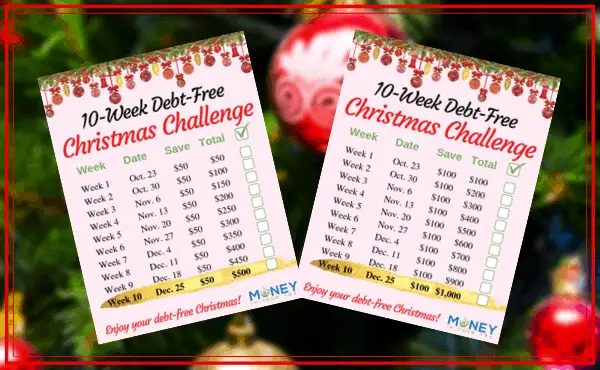 You will need to start saving by October 23, which is exactly 10 weeks before Christmas. So download your free Christmas savings tracker today!
Hang it on the fridge, or tape it to the bathroom mirror so that you will see your progress every day!
ADD_THIS_TEXT
Why Have a Debt-Free Christmas?
Let's face it, it's hard to save in advance for upcoming spending. But most Christmas spending happens on credit card. This results in credit card debt, which you should avoid if you can.
Here's what happens if you carry that $500 credit card debt into the new year.
The average rate of interest on credit card debt is approximately 19%, with many as high as 29.99%.

4Pillars Consulting Group, debt and credit specialists
Let's assume your credit card charges 19% interest. In addition, we'll assume that our credit card agreement is either 3% of the total outstanding, or $10, whichever is greater, plus interest due. Credit card agreements vary, so you should check your own if you plan to carry credit card debt.
Using the credit card payment calculator from the Government of Canada website, we see that if we make only the minimum payments, it will take 6 years and 5 months to pay off this Christmas spending! And over that time, the credit card has charged you $330 in interest on that $500 spending.
However, it's unlikely that you'll just pay the minimum amount. Let's see what happens if you pay $50 per month. You will pay off this debt in 11 months – just in time to get into more debt for next year's Christmas spending! You've also paid almost $50 in interest over that time.
You can see how paying Christmas spending with a credit card can be an ongoing cycle of debt. It just gets paid down, and Christmas is back again!
How can you Save $50 per Week?
Here are just 10 ideas to help you save $50 per week for 10 weeks:
Sell items you no longer need online or to consignment stores, including household items, clothing, baby gear, unloved jewellery, old instruments, exercise equipment, and more.
Become an Airbnb host. They provide a tool that helps estimate what you might earn based on other listings in your area. Creating a listing is free and there's no commitment. Want to read more? See my recent article Earn​ ​Extra​ ​Money​ ​During​ ​the​ ​Holidays​ ​with​ ​Airbnb!
Skip your fast-food lunches or coffee breaks, and bring food and coffee from home.
Rent out your unused stuff, such as formal dresses for holiday parties, power tools, or snow blower.
Get a seasonal job, such as wrapping gifts at the mall, working at a retail store, as Santa's helper, and more.
Sign on to a gig economy job such as Uber, Uber-Eats, DoorDash, Rover, and more.
There are currently over 14,000 projects looking to hire on Freelancer.com! Projects range from website assistance to logo design, virtual assistant work to video and photo editing.
Sign up for Ebates and Swagbucks. Earn Swagbuck points by shopping through the app, doing surveys, watching videos, playing games, and more. Sign up HERE to get $5 from Swagbucks! Ebates (now Rakuten) will earn you 2%-10% or more cash back on your purchases!  Sign up HERE to get $5 from Ebates!
If your credit card has a cashback plan, cash it out now. Or check out the current Special Offers at RateSupermarket to see if signing up for a new card will earn you points, cash back, or a gift card.
Sell unused gift cards to stores you don't like.
Looking for more ideas? Check out my 100+ Easy Ways to Make Money Fast!
Where Should you Save your Money?
You could set up a separate savings account, or even a high-interest savings account. Then the funds won't be accidentally spent.
Or you could take cash out of the bank machine and put it in an envelope. Write "10-week debt-free Christmas challenge" on the front.
If seeing it grow will help keep you motivated, take an old glass jam jar and sit it out somewhere prominent. Just look at all those $50 bills visible through the glass!
Related Reading: The Most-Wished-for Personal Finance Books for Christmas
Oh No! It's Less than 10 Weeks until Christmas!
Did you find this post AFTER October 23?
Is it too late for you to participate in this debt-free Christmas challenge? Of course not!
You have a few options:
Save and spend less money. If you start in early November, you still have 8 weeks. So if you save $50 per week then you'll have $400 in your Christmas spending budget to still finish the year debt-free.
Increase your savings. If you've missed the first few weeks, then you may wish to catch up by doubling your savings for the next few weeks.
Start and finish a few weeks later. If you can't increase your savings and can't cut back on spending, you can continue the 10-week challenge until after Christmas. You may finish December 31 or January 7. Hopefully this will still be before your credit card bill is due.
No matter which of these options you choose, you are still better off than not saving at all.
ADD_THIS_TEXT
---
Tell me in the comments how your 10-week debt-free Christmas challenge is going! Do you face any obstacles to saving this week?