For most households, the top three spending categories are housing, food, and transportation. Do you want to save thousands of dollars every year on groceries? Do you want to eat a wide variety of healthy and delicious meals? And do you want it to be easy and fast? Keep reading for my FREE printable meal planning template!
This post may contain affiliate links, but all opinions expressed are my own. As an Amazon Associate I earn from qualifying purchases. Please read my disclaimers for more information.
Why You NEED Help
Don't you hate those days, it's 6pm, you're tired after a long day and maybe a bit hangry? And then, you think, "Ugh, WHAT are we going to eat for dinner?"
We've all been there!
You rummage through the cans on the shelf, but nothing seems right. The lettuce in the fridge is starting to look slimy, so the whole thing goes into the compost bin. You look in the freezer for inspiration, but – it's all frozen. It would take forever to thaw something and you need to eat soon before someone gets hurt.
You could order a pizza, which would take care of the hunger. But you're trying to cut back on expenses. And it's sooo greasy. Does pineapple on pizza really count as getting enough fruit and veggies for the day?
You promised yourself just last week that you'd be more organized about dinners, but here you are again. It's now 6:15 and you're no closer to knowing what to eat.
Meal Planning Made Easy
Most people find meal planning a drag. But I'll show you how with my free meal planning template, it can be fast and easy to lay out delicious and healthy dinners every night. And you only have to do it twice a month!
With my free printable, you will plan dinners for two weeks at a time, and do a large grocery shop once every two weeks. In between, you only have to stop for perishable fresh foods like fruits, vegetables, and milk. How is that for a great time-saver!
You can even avoid that in-between shopping if you plan for the perishables in the first week, like lettuce and berries, and eat longer-lasting produce in the second week, such as apples and yams.
Here it is, my FREE Meal Planning Template!
To make dinnertime easier for you, I'm giving away my FREE PRINTABLE 2-WEEK MEAL PLANNING TEMPLATE!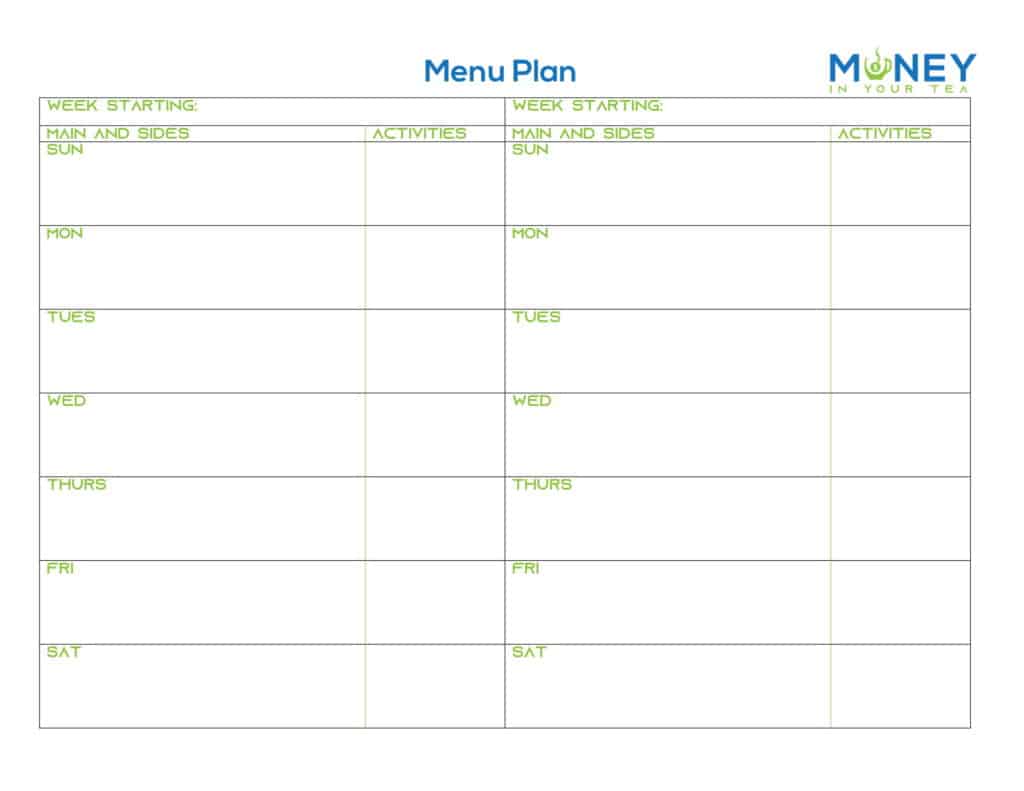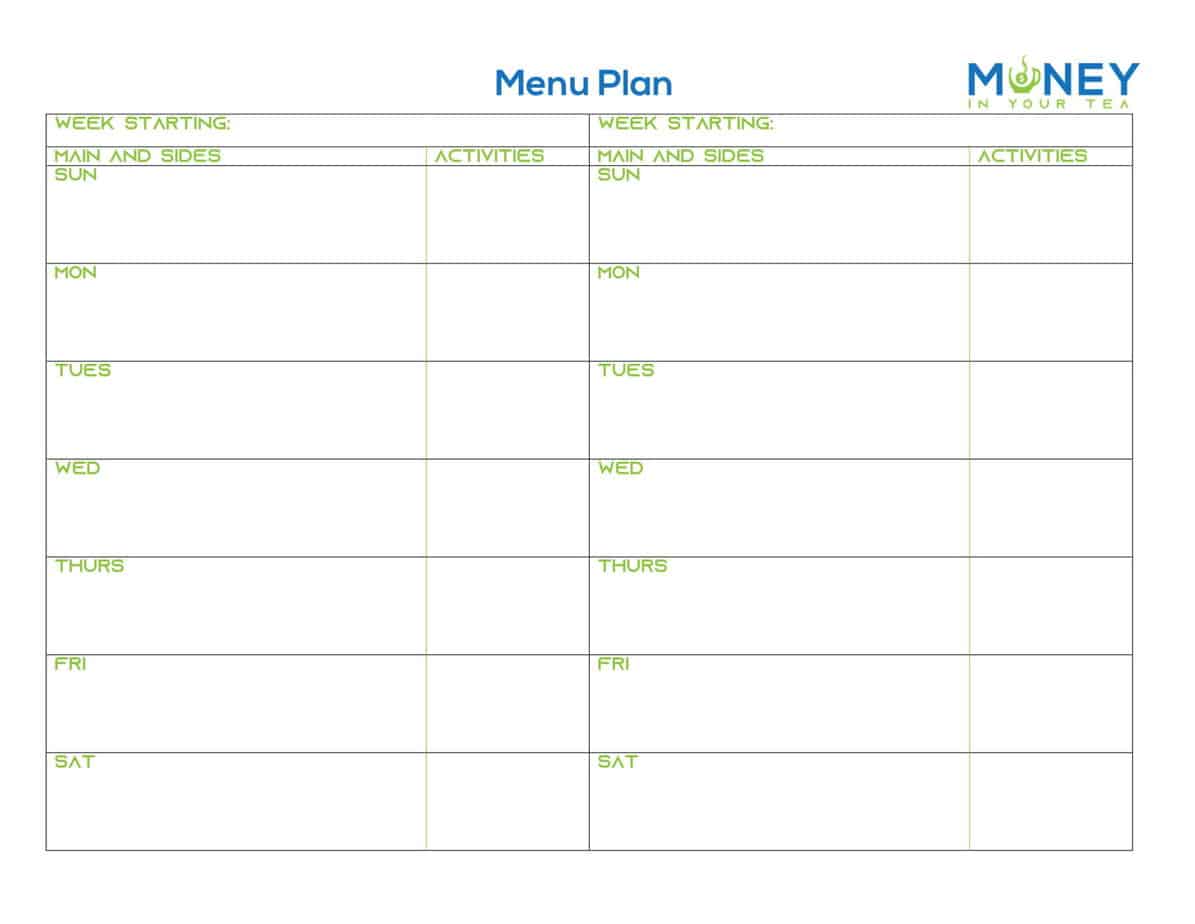 This is the meal planner I use at home for my family, and I've refined it over the years to make it perfect.
ADD_THIS_TEXT
Meal Planning Goes "Green"!
Even though paper is recyclable, and you COULD simply print this off every two weeks, I have a much better plan for you.
Make it reusable, by covering the front with clear contact paper and using whiteboard erasable markers to write in your 2-week meal plan! This saves on the cost of printer paper, printer ink, and really it's just more convenient than having to print off a new copy all the time.
Do this once and it will last you for years!
Pick up your Supplies
Order some clear contact paper from Amazon – I prefer glossy but I think matte would also work. This link goes directly to the glossy, but you can switch to matte in the drop-down for "color name". Be sure the description says it's clear, though, so you can read the meal plan template through the contact paper. The Con-Tact brand is excellent quality. You'll get far more than you need for this meal planner, but it comes in handy in surprising ways.
Add to your shopping cart some dry erase markers in a rainbow of colours! This 8-pack by Expo has a nice ultra-fine tip and is low-odor, too.
One-Time Set-up for your New Meal Planner
Print your new meal planning template, and remember to set your printer for double-sided colour printing.
Contact paper can be tricky, so this is the best approach to cover the FRONT ONLY of your new meal planner. Cut a section of contact paper that is 10″x12″ – a bit bigger than your printer paper. The Con-Tact brand includes a grid on the back, so you don't even have to find a ruler. Unroll the contact paper so it's flat. You might find an extra set of hands helpful at this point! If you're on your own, you'll need something heavy to prevent it from rolling back up.
With the clear side down, peel off the backing paper. Carefully place the planner front-side down on the sticky side of the contact paper, about 1/2″ from the edge. Be careful to lay it down smoothly, so you don't get wrinkles in the contact paper. Now, trim the contact paper flush to the edge of the Menu Plan. Voila!
If you mess up, just print out another copy and try again. Wrinkles and creases in the meal planner will drive you nuts, as it's hard to write on and harder to erase.
Do NOT put contact paper on the back where it is labelled "Meal Ideas"!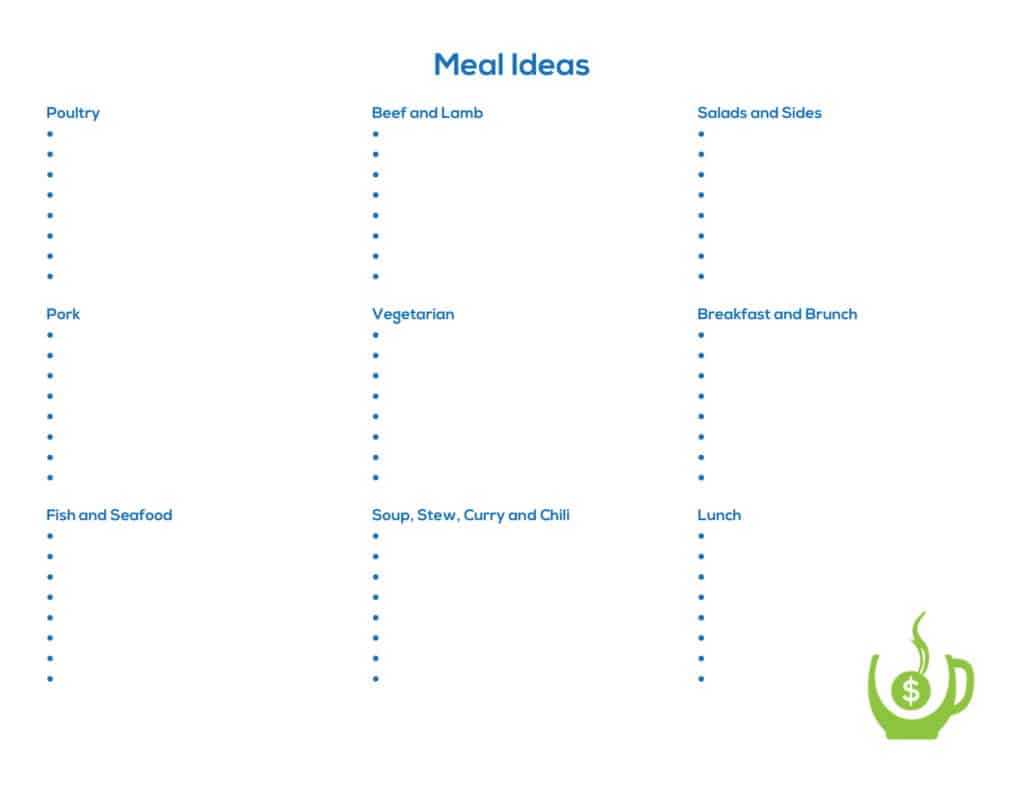 Why this Meal Planning Template is Better than the Rest
It's definitely challenging to think up 14 dinners, especially if I'm sitting with my first morning cup of tea. A big meaty dinner is the last thing that appeals. So now we get to the real superpower of my meal planning template compared to all the others out there.
Before you do any menu planning, you will write on the back under "Meal Ideas" all your favourite meals. There are sections for all different types of main courses, salads and side courses, as well as breakfast and lunch. Because your meal planning template is reusable, you only have to do this once! Since the back isn't laminated, you can add to your meal ideas as you find new recipes. Don't worry if you can't fill in all the spaces right now. You can come back and add new menu ideas to the back as you think of them.
Make your new meal ideas even more helpful, by adding a dollar sign $ after any budget-friendly meals. Then add an hourglass ⧖ next to meal ideas that are quick to prepare on busy nights. (Tip: to draw the hourglass, it is simply the letter Z with one additional line back to the top-left.)
Don't like one of the categories under Meal Ideas? Simply cross out the heading and write in your own! There are no "meal planning police" here!
Now Get Meal Planning!
When you've filled in as many of your favourite meal ideas as you can think of, flip the page back to the front. Start by filling in the dates of the two weeks that you are planning.
Below, for each day of the week, you'll see a column marked "Activities". Before any menu planning, go through your calendar and make a note of who is going where each evening! Use your new dry erase markers to write in this column, with a different colour for each member of the family.
Now you have a great idea of which nights you'll all be out – hooray, you don't have to plan a meal for that night! And which nights only some people will be home, so you can cook light. And which nights you're rushing around, and need something that can cook without a lot of hands-on work at the last minute, such as a slow cooker chili.
This is where you can really see the power of your new meal planner over all the other templates out there. You've got your cup of tea, just finished breakfast, you're still tired and thinking about what to make for dinner just doesn't appeal. Ta da! Flip the meal planner over, and all your favourite dishes are right there! And you know at a glance what to schedule for busy nights, to avoid greasy last-minute take-out meals. It couldn't be easier.
Here's my Example:

As you can see, I've started to plan out my meals for the two weeks, starting May 19th on the left, and May 26th on the right.
It's a great start, with Chris' birthday on Sunday! We'll all be home, so we'll have a nice bbq chicken dinner with mashed potatoes, broccoli, and birthday cake! The next day looks busy, though, with Phillip's baseball game, Amber at work until late, and Chris out with friends for dinner. We'll just have tomato soup, and use up the leftover chicken on a nice garden salad.
Each member of the family has a different coloured dry-erase marker for activities, so I can see at a glance who is going where. And I can plan around the busy days, so we don't have to swing by a drive-thru to get everyone fed.
Are you Ready to Save $650 Every Month?
As you fill in your meal planning template, check which items you have on hand, and add only the things you need to your grocery list.
Or work the other way. See what you have on hand first, and menu plan based on "shopping your shelves". This can reduce food waste, because you use up perishable food by planning when you'll eat it.
Reduce Throwing Away Expired Food
A 2019 study from Second Harvest found that Canadian households throw away about $1,700 worth of food each year. That's equivalent to $140 every month! With your new template, you can plan your meals and only buy what you need, knowing that you'll use it before it spoils.
Avoid Restaurant Mark Up Prices
A Forbes report found that restaurants mark up food on average about 300%. This isn't surprising, as they also have to pay for labour and overhead. But when we fail to plan ahead with what we'll cook at home, we're far more likely to order in or go out to eat. But now, with your new meal planning template, you can see at a glance what you will eat. No more "I can't decide, let's order in". The cost of eating out varies widely by the type of restaurant you go to. But clearly households can easily save $300 per month by cutting out just one restaurant and one take-out meal.
No More Impulse Shopping
The Credit Counselling Society estimates that people who grocery shop with a list save up to 23% on their groceries, as compared to those who impulse shop. That translates to annual savings of $2,360 per household, or nearly $200 each month!
Plan Around What's on Sale and What you Already Have
By using your new meal planning template, you will write out your grocery list as you fill in the plan, keeping in mind what staples you already have on hand. Moreover, you can boost the savings even more by meal planning around what is on sale in the grocery flyer!
Nutrition Improves with Meal Planning
In addition to saving money, meal planning templates mean we eat healthier, too. Restaurants tend to serve foods that are higher in fat, higher in salt, higher in sugar, and larger in portion sizes than foods we cook at home.
By planning ahead you can avoid those spur-of-the-moment decisions to eat out because you just don't know what to make, or don't have any food at home.
In addition, because your favourite meals are listed by category, you can plan with intention to get nutrition from a variety of sources. That is, for each two-week period you can plan to have 4 vegetarian dinners, 2 chicken dinners, 2 fish and seafood dinners, and so on. You will get more variety in your meals, which is healthy as well as tasty.
Get your FREE Meal Planning Template Today!
Using my FREE template will make dinners so much better, because you:
only have to meal plan and grocery shop twice a month, saving you hours of time;
know in advance which nights are busy, which you will be out, and when you have time to cook;
have all your own favourite meal ideas written on the back;
eat a wide variety of healthy meals each week;
buy only the food you will need, saving you money;
use up all the food you buy, eliminating food waste and saving even more money;
know what you're going to eat each day, so no more last minute ordering in, saving even MORE money!
Don't miss out!
ADD_THIS_TEXT
---
For additional money saving ideas:
📌 Pin for later!