This is the first in what will be an occasional series, a roundup post highlighting great articles I've read on other personal finance blogs. Summer has finally arrived here in Toronto, and it seems a shame to be spending the day in front of the computer writing a money blog roundup. But the alternative is weeding the garden, so I'd rather do this!
This post may contain affiliate links, which means I make a small commission if you decide to purchase something through that link. This has no cost to you, and in some cases may give you a discount off the regular price. If you do make a purchase, thank you for supporting my blog! I only recommend products and services that I truly believe in, and all opinions expressed are my own. As an Amazon Associate I earn from qualifying purchases. Please read my disclaimers for more information.
Money Blog Roundup, Early Summer Edition
Maple Money
Tom, from Maple Money, has guest writer Sarah Li Cain speaking on 48 Ways You Can Make Extra Money in Your Spare Time. There are some well known ideas, like listing with Airbnb, or driving with Uber. And of course there's always the option of starting a blog! Other money earners are new to me. I'm really exited to try Lending Loop, an online platform for investing in small businesses.
Our Bill Pickle
At Our Bill Pickle, Tara writes about Three Things to do After Going Over Budget in June. Let's face it, we've all been there. Those months are discouraging when expenses are higher than income. She continues with how to prevent one bad month from continuing over to the next. Learn from your experiences and plan better.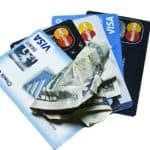 Canadian Budget Binder
Recently Mr. CBB answered a reader's question regarding overspending on her credit card. I think we can all relate with getting a credit card bill that is higher than we expected! Read his fabulous response in How Credit Card Tracking Can Save You From Over-Spending. Comes with a free credit card tracking printable! Mr. CBB also post recipes, with a particular emphasis on keto and gluten-free.
Gen Y Money
The author of Gen Y Money has just had her second baby, and has a new post on setting up an RESP for her. What is an RESP? And How to Maximize the RESP Grant. We've set up RESPs for all 4 of our children, and I agree with GYM that they are a fabulous way for Canadian parents to save for their children's education. Our eldest is now in university, and you can read my article about withdrawing from an RESP, which is a bit complicated.
Dollar Sprout
It seems like every blogger is recommending Swagbucks as a great income booster. This month on Dollar Sprout, Megan Robinson writes a comprehensive review, Swagbucks App Review 2019: What is Swagbucks and How Does it Work? She details the 7 different ways Swagbucks can save you money and earn free gift cards. The best hack, in my opinion, is buying gift cards through their app, which gets you up to 10% back in points. Next, shop at those stores through the Swagbucks platform to earn even more points!
Bonus Roundup: Blog about Blogging
World Travel Family
Alyson Long writes the massively popular travel blog, World Travel Family. She also writes great content on being a blogger and how to blog. In this updated post, Basics of SEO for New Bloggers, she tackles the many aspects of SEO – search engine optimization. This is how to get your website to rank highly in search results through Google, Pinterest, or any other search engine. Despite the post title "for new bloggers", Alyson also has important tips on what she's doing as a very experienced blogger. SEO is an area I really need to focus on myself as a new blogger. I know I'll reread this post many times.
---
Other Blog Roundups on Money In Your Tea!
---
Want to bring a new post on your blog to my attention for my next money blog roundup? Or want to review one of my posts on your own roundup? Email me at kari@moneyinyourtea.com.
Have a great summer!