Many seniors entertain the idea of continuing to earn an additional income during their retirement years. Still, the thought of being chained to a desk makes them hesitant to return to the workforce. Seniors seeking to boost their income in retirement are looking for freedom and flexibility, and starting a business can be a great way to do this.
Entering the house flipping industry can generate extra income while helping you learn new skills and stay busy. And it's not particularly difficult to get started.
---
From time to time, I invite other writers to share their expertise with you. Today I'm turning my blog over to my friend Mike from elderfreedom.net to help walk us through the difficult process of selling a loved one's home their after passing.
---
This post may contain affiliate links, which means I make a small commission if you decide to purchase something through that link. This has no cost to you, and in some cases may give you a discount off the regular price. If you do make a purchase, thank you for supporting my blog! I only recommend products and services that I truly believe in, and all opinions expressed are my own. As an Amazon Associate I earn from qualifying purchases. Please read my disclaimers for more information.
Form Your Business and Find Financing
WSI points out that every new venture should have a business plan, and a house flipping business is no exception. A business plan is crucial for a few reasons, with the most important being that it acts as a roadmap for an enterprise. A plan also emphasizes your company's purpose, analyzes the industry and competition, showcases profitability, and states your goals.
Besides putting down your goals and how you plan to achieve them, a business plan is also required in most cases to get funding. Flipping houses requires gross capital, which you can get from regular lenders, investors, and other sources. You can even get a loan without proof of income.
There are several funding options for flipping houses, but the kind you'll get will depend on a few aspects, such as time in business and your credit score. If you have a low credit score, ActiveRain notes that hard money loans may be the best option for you. Hard money lenders give you funds based on the deal itself, not your personal or business situation, but are typically short-term and come with high fees.
Forming your business as the appropriate legal entity (i.e., LLC, corporation, partnership, etc.) and getting an Employer Identification Number (EIN) will allow you to open a business checking account and further legitimize your venture, a good attribute in the eyes of lenders. Using an online formation service simplifies this process and makes it affordable and efficient. They will walk you through the formation steps required; they will even help file all the paperwork.
You Can't Flip Just Any House
You need to figure out the local real estate market and be aware of which locations are suitable for investment. Look for an area where employment is increasing and crime rates are low, and where there are great choices for affordably purchasing a home and selling at a good profit. However, pay attention to environmental and infrastructure problems that could negatively impact property value, too.
You also need to make intelligent investments regarding the actual structures you buy—avoid homes that require major renovations, such as foundation repair. It's best to invest in a house that can be easily updated without excessive changes. You could use the help of a real estate agent when looking and selecting homes, as they know the market well and can offer you valuable insights.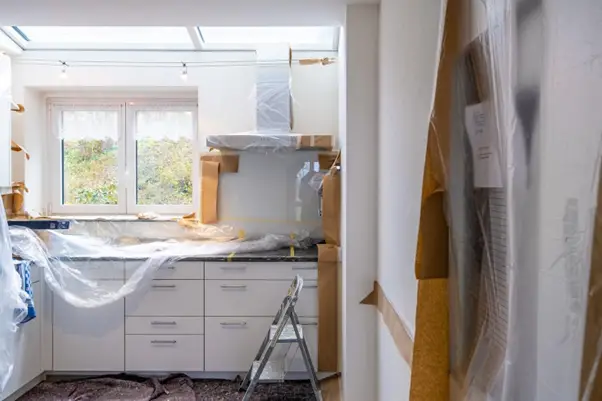 Learn What Renovations to Make
It's best not to spend a great deal of money on your flips. When you do spend a lot, you deplete your entire profit margin. Instead, focus on the highest value enhancements you can do. Research the highest value interior design changes that will boost how much you can sell the house for. Some may be as simple as changing the walls with customizable wallpaper. You don't want to lose money on renovations—ever. Theoretically, the improvements should add more value to the property than what you spend.
Find the Right Team
Chances are that you won't be able to handle home renovations independently. That's why you need a team of professionals you can trust to get the job done right. First, connect with a home inspector since you need to know all the details about the house you plan to buy—their analysis will help you understand what you are purchasing to estimate more accurately how much money you'll spend on repairs. Next, look for contractors. Consider asking your realtor to introduce you to a great team as experts in the industry usually have a broad network that includes many professionals. And if you decide to purchase a home that's been damaged from a storm, it's best to hire a restoration company to safely remove debris and perform clean-up services.
Once you have your team assembled, keep track of all of your invoices and use an online payroll service that will keep things organized for you. Look for one where the payroll services are processed quickly in order to keep your contractors happy and the work on schedule.
Stay Organized
When it comes to the organizational aspects of your business, it's essential to apply a detailed approach. This means creating a system for your finances, having an organized schedule for yourself and your staff, and using tools to simplify the process of management and logistics.
The best method for keeping everything in one place is through a full-service accounting system that brings all the necessary pieces together. Things like cash flow, invoicing, expenses, profit and loss statements, employee time tracking, payroll automation, up-to-date financial reporting and the like.
The Bottom Line
Once you have a business plan down, find financing—or know a few options—and research the market, you can start working on your first flip project. Next, you'll only need to assemble a team, know what renovations to make, and then prepare for your first sale. Once you have one flip under your belt, you'll be ready to do it again!
---
Elder Freedom is an organization of advocates working for the older adults of our community. It is our mission to help locate resources, events, and engagement opportunities to help enrich the lives of seniors.