The most important thing to remember is that credit cards are really a series of short-term loans, that need to be paid back.  You buy something today on the card.  The store gets paid today, from MasterCard, Visa, or American Express.  Then you pay the bill a few weeks later.  (To clarify, American Express cards can still be obtained by Canadians and used at stores in Canada.)  If you pay the bill on time, you will not owe any interest!  That is, for the first few weeks of this "loan" they charge you 0% interest.  If you DON'T pay the bill in full, you will be charged interest, and usually at a fairy high annual percentage rate such as 20%.  Therefore, it's essential to not charge more on your card than you will be able to pay in full when the bill is due.
This post may contain affiliate links, which means I make a small commission if you decide to purchase something through that link. This has no cost to you, and in some cases may give you a discount off the regular price. If you do make a purchase, thank you for supporting my blog! I only recommend products and services that I truly believe in, and all opinions expressed are my own. As an Amazon Associate I earn from qualifying purchases. Please read my disclaimers for more information.
Three Types of Credit Cards
1. Unsecured Credit Cards
Unsecured credit cards are what most people think of when you say credit card.  That is, you spend money now, and when the bill comes you pay it off.  The card company trusts that you will pay it.  There is a maximum amount you can spend on the credit card, typically $500 on a student card.  Once you've proven that you are responsible to pay it off in full each month, the credit card company may increase your spending limit.
Unsecured credit cards are good for those who are responsible about how much they spend, and about paying off the balance in full each month.  As a result, they will help you build up a good credit history.
Unsecured credit cards are not for everyone, though.  If you are the type of person who will spend impulsively now and worry about paying for it later, don't get one.  If you are disorganised and forget things, and thus might forget to pay the bill on time, this is not best type of card for you.
2. Secured Credit Cards
Secured credit cards are less common.  If you don't qualify for an unsecured card, you may be asked to provide a security deposit with the credit card company. This security deposit may be up to the limit of the credit card.  That is, if you have a $500 limit on the card, you may be asked to provide a security deposit of up to $500.
Why would you want to do this, you ask?  If you need to establish or repair your credit rating, this will help.  Ask to switch to an unsecured credit card when you have demonstrated that you are responsible by paying off your balance in full and on time.  At that point, your security deposit will be returned to you.
3. Prepaid Credit Cards
Prepaid credit cards are not true credit cards.  They are more like a gift card, but you can use it at any store.  These are a great way for Grandma to send you a birthday present when she doesn't know what you like.  However, prepaid cards do NOT build your credit history.
The other great use for prepaid cards is for those who know they are susceptible to overspending and want to enforce their own spending limit.  You can put yourself on a strict budget by depositing a certain amount at the beginning of the month, and when it's gone you just can't buy anything else until you put more money on it next month.
Prepaid cards that go unused for long periods may be susceptible to penalty fees that reduce the value of the card.  Therefore, you should be sure to read the fine print that comes with the card.
How to Find the Right Credit Card for You
You have information at your fingertips to compare different cards for the one that suits your own needs.  You can apply for the card that is offered by your bank, or search online for a great comparison on offers.  Don't be taken in by the booths that offer a free giveaway or chance at winning a prize, unless they also happen to have the card that suits you best.
Credit cards offer different promotions at different times.  But the main thing to look for in your first credit card is no annual fee.  To start with, you're likely only using it a bit, and you may generate enough rewards to cover the cost of a card with an annual fee.
If you think you might not be able to pay off the bill in full some months, then the most important feature is a low interest rate.  Look for a good promotional interest rate, but more importantly one that has a long-term lower rate. Read the fine print to see if and when the interest rate will change.  Set yourself a reminder on your phone to ensure you don't get caught paying more interest than you expect. Insider tip, use your tax refund to pay off your credit card balance!
Once you apply for a card, the company will look at and approve your application.  A few days later you'll receive your card in the mail, and in a separate letter you'll receive your PIN.  You will need to phone the number on the back of the card to activate your account.  You can also change your PIN to another number.  Pick one that's hard to guess – not your birthday.
Choices for Students
The most important feature for any student is that the credit card you choose should have no annual fee.
Look for benefits or points that match how you already spend your money. For instance, if you see a lot of movies, a credit card with Scene points might be right for you. However, you can't go wrong with a cash-back card.
BMO® AIR MILES®† Mastercard®* for Students offers a no-fee card, and includes extended warranty and purchase protection on anything you buy on your new credit card. As an AirMiles card, you will earn 1 Mile for every $20 spent, and 2 Miles for purchases at participating merchants.
Our main credit card is a BMO AirMiles card, and we earn $1,000s in value every year through the AirMiles program.
BMO® CashBack Mastercard® for Students gives 5% cash back for all spending in the first 3 months, and 1% cash back after that. It is also a no fee card, and includes extended warranty and purchase protection.
Best Credit Card for Non-Students
There are dozens of choices in credit cards when you're not a student. Features range from cash back to no annual fee, low interest rates to US-dollar cards. Partnerships include travel, food, housing, vehicles, and many more.
Check out Rate Supermarket for all their Special Offers.
One of the best welcome bonuses right now is the Scotiabank_amex_gold $100 e-Gift Card! You can choose your gift card from Amazon.ca, Cineplex, Ultimate Dining (which represents well-known chains like Swiss Chalet, Montana's, Kelsey's, and more), or Best Buy.
It also includes the following great bonuses!
Earn up to 30,000 bonus Scotia Rewards points in your first year (that's up to $300 in bonus reward points)
Earn 5 Scotia Rewards points for every $1 CAD you spend at eligible grocery stores, dining, and entertainment
Earn 3 Scotia Rewards points for every $1 CAD you spend at eligible gas, daily transit, and select streaming services
Earn 1 Scotia Rewards point for every $1 you spend on all other eligible everyday purchases in any currency
Complimentary Concierge Services 24/7
Amex exclusive benefits (Front Of The Line, Amex Offers, American Express Invites)
Apply for this card and read all the fine print here.
What Should I Charge on my new Card?
In general, it's good to use your credit card for things that are durable.  That is, if you buy textbooks on your credit card, you're still enjoying them (so to speak) when the bill comes due.  If you charge a great dinner out on your credit card, by the time you pay the bill the meal is long gone and forgotten.  Then it seems like a chore to pay for something you don't have anymore, that was so long ago.  Use your debit card for things like dinner out.
It's good to use it a little every month, so put your cell phone bill or something else that bills automatically onto your credit card.  Why do you need to use it?  Having a credit card with no record of paying on time – because you never charge anything to it – doesn't give you any credit history at all.
How much Should I Charge on my Credit Card?
Credit cards are accepted nearly everywhere.  But you don't want to go crazy at first.  You definitely don't want to rack up more debt that you can pay off at the end of the billing month – which may not be the end of the calendar month.
Don't charge up to the maximum, because it can affect your credit score temporarily if you are maxed out.  And please remember that just because your limit is $1,000, that doesn't mean you should spend that much each month!
Only use your credit card knowing that you have enough money in the bank to pay off the total when it is due.  Put a reminder on your phone so you don't forget to pay it.  When you only have a few months of payments, one late remittance makes a big impact on your credit score.  Much more than, say, one late payment in 10 years of credit card history.  Late payments, or worse skipping payments, can impact your credit score for up to 7 years!  Pay it on time every month even if you can't pay the balance in full.
How to Read a Credit Card Bill
Somewhere near the top of your paper statement or online banking, you will find all the important information about your new card.
Public service notice: don't log into your online banking or banking app using a public wifi, say at a mall or coffee shop.  Security is just not guaranteed.  Use your own data plan or your home internet.
Interest Rates
It will show the interest rates.  For my MasterCard, the interest rate on purchases is 19.99%, on cash advances is 22.99%, and on balance transfers is 22.99%.  Purchases is what you mainly use your card for, namely paying for things.  Cash advances are when you use your credit card to withdraw cash from a bank machine.  And balance transfers are when you transfer money you owe to one company to your new credit card.  Note that you have several weeks of 0% interest on your purchases, but cash advances and balance transfers generally start to owe interest starting the first day.
Dollar Amounts
The statement will also show your credit limit.  Please don't max out your card!  For one thing, if you spend the maximum allowed on your credit card, you will probably have trouble paying it off.  Then you will owe interest payments, which is how card companies make their money.  The second reason not to max out your card, is that when you get close to your maximum your credit score goes down.  Tip, if you have a big expense coming up and you want to put it on your card, you can prepay!  Deposit funds into your credit card (so now you have a positive balance, they owe you money) before you make that big purchase.  Then you will not max out the card.
The statement will show your current balance (the total value of all purchases not yet paid) and the available credit (the difference between your credit limit and your current balance).  You can check your current balance and available credit anytime through online banking or your banking app.
The last item to note is the statement balance, which is the amount due on or before the statement due date.  This will be less than the current balance, if you have bought a few more things since they wrote up the bill.  You need to pay off the statement balance, not the current balance, by the due date (though it's okay to pay more if you wish).
Important Dates
It will also show the statement date and the payment due date.  These are important!  The statement date is the day that the card company wrote up this bill.  If you get paper statements mailed to you, you will receive it a few days after this date.  If you get emailed statements, then you likely get it around the day it's prepared.  The payment due date is the last day you can pay off your credit card in full before they start charging you interest.  This will be about the same day each month, but may vary slightly from month to month.  My own card's statement date is about the 22nd of the month, and the payment due date is somewhere between the 12th and 15th of the following month.
Tip!  Set a reminder on your phone about a week before it is usually due, so that you never forget to pay on time!
They will give also you a minimum payment due, which can be as low as $10 even if you owe thousands!  If you pay only the minimum due each month, it will take you YEARS to pay off the balance even if you never use the card again.  Ignore this amount, because you will NEVER pay just the minimum payment due.
Charges
Below the header of the statement, you will find the list of charges, the date each was made, and the amount.  Read through this carefully every month, to ensure that you catch any fraudulent charges (this is rare, but you don't want to miss something).  Moreover, you'll start to see patterns in your spending by tracking it each month, which can help with budgeting.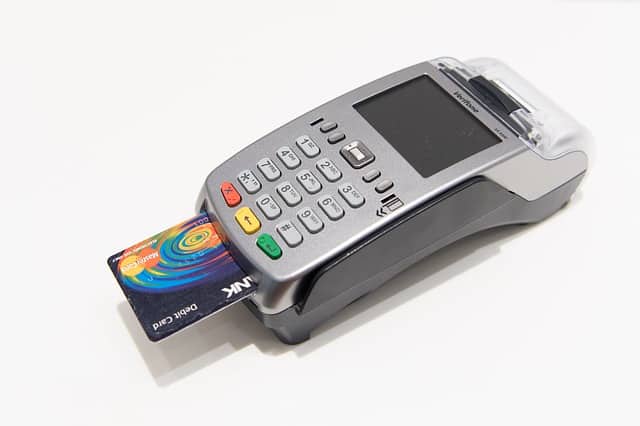 Take Away
Be aware of the temptation to overspend on a credit card.  If you find that is an issue for you, put the card away (in a safe place) and go back to cash.
There are numerous benefits to having a credit card, but it also requires great responsibility.  It is essential to pay your credit card bill – in full, on time, every time.
Sharing is caring! Send this post to your friends!