What does wealth mean to you? A mortgage-free house? An insta-worthy vacation every year? Being able to spend more time with your kids instead of working so much? Retiring and living off your investments? Being able to go out to dinner without the anxiety of how you'll pay the credit card bill? Graduating debt-free? Pick up one or more of the following personal finance books to read your way to more wealth this year.
There is no right or wrong answer to what wealth means to you. We all want different things from our money. And the answer will change as we go through different life stages. We need to understand how to master our finances – earning, spending, investing, tracking and budgeting – in order to reach our goals.
Spend a few hours reading personal finance books, or listening to audiobooks while you commute or walk the dog. This short investment in time will help you understand money and how to achieve your own version of "being rich".
This post may contain affiliate links, which means I make a small commission if you decide to purchase something through that link. This has no cost to you, and in some cases may give you a discount off the regular price. If you do make a purchase, thank you for supporting my blog! I only recommend products and services that I truly believe in, and all opinions expressed are my own. As an Amazon Associate I earn from qualifying purchases. Please read my disclaimers for more information.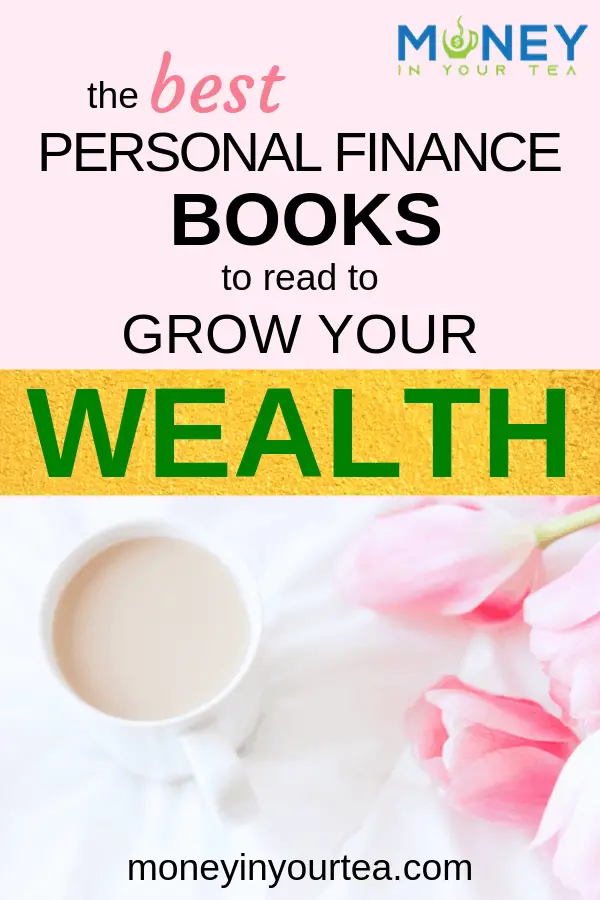 Personal Finance Books I've Read
Broke Millennial
Erin Lowry's breakout personal finance book, "Broke Millennial: stop scraping by and get your financial life together", has amazing advice that young adults will want to read again and again. How to split the bill among friends at a restaurant. Moving back home after college. When and how to talk about money issues in a relationship. Sharing finances when moving in with a significant other.
Read my full review of this awesome personal finance book at Broke Millennial Book Review!
If you enjoy this book, you will love Erin's follow-up book: Broke Millennial Takes on Investing.
The Latte Factor
You'll enjoy David Bach's entertaining parable of Zoey, in "The Latte Factor: why you don't have to be rich to live rich". She's living in the big city, working at a job she loves, but still struggling to pay her credit card bill, rent and a student loan.
Zoey befriends an older barista, who shows her how to plug the leaks in her spending – among other things – to live comfortably within in her means. And no, it's not all about giving up your latte!
Want to know more? Read my full review of two David Bach best sellers at The Latte Factor versus Smart Women Finish Rich.
Smart Women Finish Rich
Women are more likely to:
take time off work to care for young children and/or aging parents,
earn less than men,
end up with the "short end of the stick" after divorce,
outlive their husbands,
have less saved for retirement than men (even though they live longer),
be hurt by corporate downsizing, and
take longer to find a new job.
The expanded and updated personal finance book "Smart Women Finish Rich" should be required reading for all women. Learn how to effectively organize your financial papers once and for all. No more shoe box! And to spend according to your values. Understand money.
Read more about Smart Women Finish Rich.
Women with Money
Jean Chatzky is a familiar face in personal finance, appearing on Oprah, Live with Regis and Kelly, The View, and more. She is the financial expert for the Today show.
"Women with Money – the judgment-free guide to creating the hoyful, less stressed, purposeful (and, yes, rich) life you deserve" is a 3-part personal finance book. Part 1 goes deep into your relationship with money, including analyzing what you want from your money and why and how money affects you. Part 2 dives into getting paid what you're worth, being a confident investor, and buying real estate. Lastly, part 3 helps you use money to create the life you want – kids who launch, caring for elderly parents, and leaving a legacy.
STANDUP to the Financial Services Industry
This Canadian guide to the financial advisor industry cautions us that recommendations based on traditional approaches may not be right. Moreover, the system is set up to create advisor bias, due to the way that mutual fund fees are embedded in the products.
John De Goey, an award-winning financial advisor and an authority in his field, gives us questions we can ask our advisor (and the answers we should expect).
Read my full review of "STANDUP to the Financial Services Industry: a practical guide for Canadians".
Make your Kid a Money Genius
Beth Kobliner's personal finance book "Make Your Kid a Money Genius (even if you're not)" is easy to read and includes essential advice at any age. This is a book any parent – or young adult, for that matter – will want to keep close at hand.
She covers 10 important topics ranging from saving, earning, debt, smarter spending, college, and more. In addition, each chapter is broken down into advice by age range: preschool, elementary school, middle school, high school, college, and young adulthood.
For example, in the chapter called Hard Work Pays, elementary kids learn that work isn't always fun, while highschoolers learn how to read paycheque deductions, and advice to a young adult includes how to negotiate your salary at a new job.
Financial Freedom
I've just started reading Financial Freedom by Grant Sabatier. I'm really enjoying it, for it's straightforward approach to focusing on a growth mindset. You can only save so much. But there is an unlimited ability to earn more money and wealth.
Grant Sabatier went from only $2.26 in his bank account to a net worth of $1.25 million in only 5 years. Read exactly how he managed this incredible feat in "Financial Freedom: a proven path to all the money you will ever need".
---
Read All my Book Reviews!