Learn how to protect yourself from your investment advisor's potentially misguided advice, with a new book "STANDUP to the Financial Services Industry – a practical guide for Canadians" by John J. De Goey.
This post may contain affiliate links, which means I make a small commission if you decide to purchase something through that link. This has no cost to you, and in some cases may give you a discount off the regular price. If you do make a purchase, thank you for supporting my blog! I only recommend products and services that I truly believe in, and all opinions expressed are my own. As an Amazon Associate I earn from qualifying purchases. Please read my disclaimers for more information.
My Review of STANDUP to the Financial Services Industry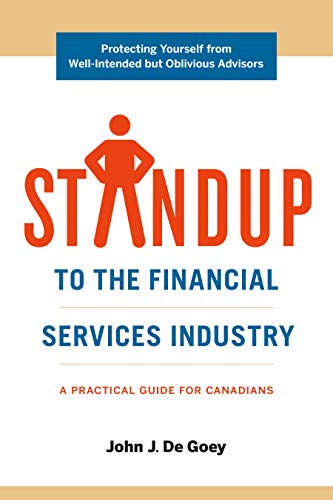 Who better to critique the financial services industry than one of their own? John De Goey is an award-winning financial advisor and an authority in his field.
As investors we may choose to work with a financial advisor because we feel unsure about how to reach our goals, we lack the time and inclination to DIY invest, or we have a complicated financial situation. But how do we know we're getting the best advice?
While there are few truly bad or self-serving advisors out there, John alerts readers to the fact that advice based on traditional approaches can be just plain wrong.
Moreover, the system is set up to create advisor bias, due to the way that mutual fund fees are embedded in the products.
What is an average investor to do? John gives us lists of questions to ask our current advisor, or an advisor you're considering working with. Even better, John gives us what answers we should expect to receive and what answers should set off alarm bells.
A few examples are:
What percent of your typical client's portfolio is invested in Canada?
How often do you expect to rebalance my portfolio?
What happens if I need access to cash during the redemption period of a deferred sales charge mutual fund due to a family emergency? (Don't worry if you didn't understand the question, John clearly describes all these terms.)
Asking the right questions can help investors find a STANDUP advisor – Scientific Testing and Necessary Disintermediation Underpin Professionalism.
Who is this Book for?
Investors using a financial advisor. This is essential reading for anyone already working with a financial advisor, or considering it.
Financial advisors. Anyone who is already a financial advisor or planning to become one would benefit from reading this book. The final chapter is specific advice to you. But all the rest will help you identify and meet your clients needs.
How can I get my Copy?
Technical Details about the Book
STANDUP to the Financial Services Industry was published in 2019. It's written from a Canadian point of view, but I believe the content would be widely applicable to financial advisors worldwide. We all need to know how to determine if the advice we receive is both wise and in our best interest.
The book is 183 pages, packed with dozens of questions to ask a financial advisor, whether you are trying to find the right person to work with, or whether you already have an advisor.
About the Author of STANDUP to the Financial Services Industry
John De Goey is a portfolio manager with Wellington-Altus Private Wealth, as well as a best-selling author. Readers of Canadian personal finance will recognize him from his regular contributions to MoneySense, The Globe and Mail, and the National Post, as well as numerous TV appearances. John's previous book, "The Professional Financial Advisor" was published in 2003 and has most recently been updated in 2016.
You can find John De Goey online at www.STANDUP.today.
---
While you Wait for your Book to Arrive, Read more at Money In Your Tea!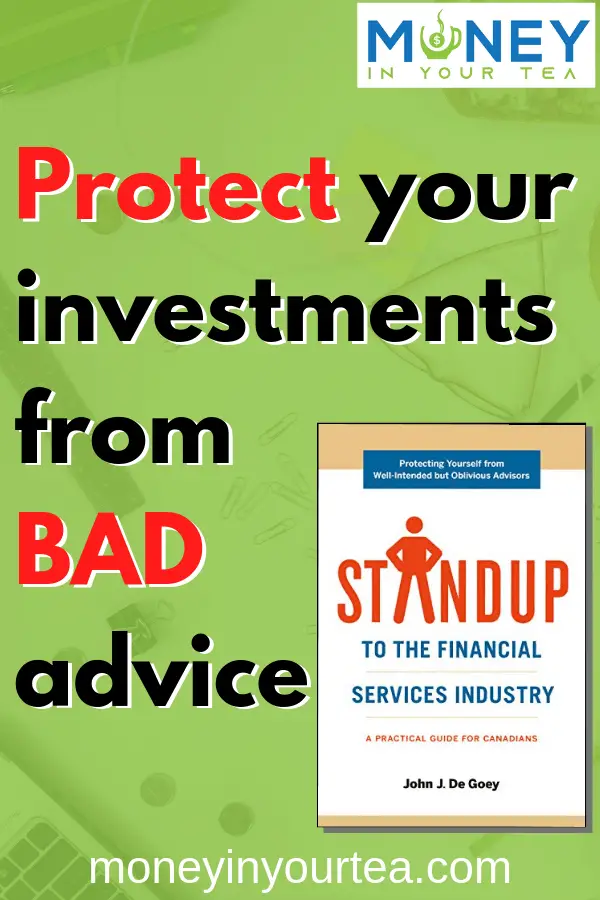 Read All my Book Reviews!