Let's face it, shopping on Amazon is easy and familiar. But when you're looking for that special gift that will make their eyes light up – Amazon isn't your shopping destination. Etsy is where you will find those one-of-a-kind unique gift ideas your family and friends will love.
Updated gift guide for 2021!
Win a $10 Etsy Gift Card!
I have a $10 Etsy gift card to give to one lucky reader! Keep reading for contest information.

UPDATE: The contest has closed. Congratulations to the winner, Alice, who has been contacted by email.
This post may contain affiliate links, which means I make a small commission if you decide to purchase something through that link. This has no cost to you, and in some cases may give you a discount off the regular price. If you do make a purchase, thank you for supporting my blog! I only recommend products and services that I truly believe in, and all opinions expressed are my own. As an Amazon Associate I earn from qualifying purchases. Please read my disclaimers for more information.
TL/DR: Etsy gifts check off all the right boxes for holiday gift giving:
Unique and personalized
Handmade
Support local small businesses
Avoid the crowded shopping malls
Eco-friendly designs and delivery with 100% carbon offset
Sellers are responsive to all your questions
People Love Handmade
I'm as happy as anyone else to get a new kitchen gadget, or some new electronic item. But when you receive something handmade rather than mass-produced in a factory, somehow it feels more personal.
These beautiful handblown glass stemless wine or water glasses from GreenGames will take your breath away. Not only will drinking out of a beautiful glass like this bring joy to anyone on your holiday gift list, they'll also think of you every time they use it. This would be a perfect one-of-a-kind Christmas gift for Mom or Dad.
Personalized Gifts
There are literally thousands of items on Etsy that you can order customized especially for your family and friends. Check out these gorgeous Christmas stockings! They have so many designs and colours to choose from, so even a large family like mine (2 parents + 4 kids and a dog!) could find a different one to suit each person.
If you're looking for that special personalized gift for her or for him, Etsy has you covered. Of course you'll find a huge selection of jewellery you can put her name on. Or leather wallets with his initials stamped on.
Even more unique is this fabulous custom photo collage blanket from BySarp! Personalize your gift with favourite family photos and/or text.
Other great personalized ideas are a custom map print of your city, a custom family portrait in paper art, a gorgeous leather travel notebook stamped with their name, or iron wall art with your GPS coordinates.
Find all of Etsy's top picks in their Personalized Gift Guide!
You're Supporting Small Businesses, not a Mega Corporation
Every seller on Etsy is a small business person. Many people work from their homes. Being a creator on Etsy can allow a parent to stay at home with their children. Or share their cultural heritage. Every creator has a story.
For example, Toronto designer Ashley Alexis McFarlane started her jewellery shop Omi Woods to showcase African heritage motifs, after inheriting a gold bangle from her Caribbean grandmother. Each piece carries its own symbolism: peace, fertility, life, abundance, protection. In addition, she shares her personal values through her work by using only conflict-free and fair-trade materials.
Connect with the Creator
On the Etsy website, you can connect directly with every single creator. Have a question about something before you make your purchase? No problem! Most creators will respond within a few hours.
This double-sided dog ID tag is sure to bring a smile to someone's face. The Etsy website tells me that purchasing from this store will support a shop close to my home. I can see that this shop has an average review of 5 out of 5 stars! And that the seller usually responds to inquiries within a few hours.
Some designers will also include a handwritten or personalized note along with your purchase. You won't get that online shopping at a big box chain store!
Eco-Friendly Designs
It seems pretty clear that humanity can't go on as we have, treating the Earth as ours to consume and use up. Many Etsy creators feel the same way. Check out Etsy's many Earth-conscious finds Gift Guide!
Choose from beeswax food wrap in fabulous colourful designs from Olsenolsen Design. Plastic wrap and plastic bags are some of the biggest contributors to kitchen plastic waste. Beeswax wraps are a zero waste reusable alternative, made with organic and sustainable ingredients. They're easy to use – just wrap over a bowl or fold around sandwiches! They arrive in minimalist plastic-free packaging.
Check out this amazing iPhone case made from wheat – yes WHEAT! – customized with your name on the back. North Legends makes this in a choice of 5 colours and a variety of phone sizes. Best of all, it's eco-friendly because it's compostable and biodegradable. When you're done with it, you can literally just put it in the garden!
Not your cup of tea? Try a reusable travel mug paired with reusable tea bags made from organic cotton. (Seriously, regular tea bags can leach billions of microplastic and nanoplastic particles into every cup! Who wants to drink that?) Or combine jewellery made from recycled gold with a naturally-dyed silk scarf.
Get a Great Deal with Etsy Sales!
Is finding that perfect gift great – but finding it on sale even better? No worries! Etsy also has great sales! Some creators may also include a little free bonus gift with your purchase, too.
Just look at all the amazing ideas on Etsy's Christmas Sales gift guide! There are hundreds of items that are 20% to 30% off. But even better, discerning shoppers will find deals for 50% off, 60% off, or even a rare 70% off!
I had a look at a number of items to link to here as examples. But many of the sales seem to be only 1 or 2 days. So likely they wouldn't be on sale when you read this! And I'd hate to disappoint you. So here's an example of the variety!
And check out how many have free delivery too!
Etsy Gifts under $30
Maybe you think buying personalized items from small businesses is expensive. But never fear, Etsy has a huge selection of gifts under $30!
For her, check out a personalized ring holder, copper hair clip, or a cozy pair of reading socks.
For him, 20-sided dice cufflinks, a leather cord keeper to tame that charging cord, or a fox and cactus desert art print.
For the eco-friendly people on your list, they'll love these Japanese reusable gift wraps, beautiful handmade vegan soap, or linen napkins.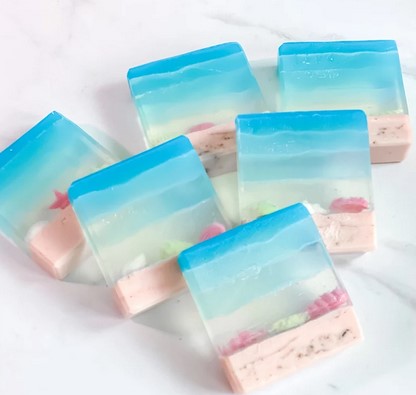 What to do if you're Unsatisfied with an Order
Let's face it, when shopping online sometimes what you get isn't exactly what you thought it was going to be. Can you return Etsy products?
The short answer is, it depends. Each creator on Etsy will have their own policies stated in their shop. If you're concerned about returns, please read their policy before you place an order. In general, custom orders such as a necklace personalized with your name, won't be returnable. That seems reasonable – where else would they find another "Kari" that wants this particular necklace.
If they do accept returns, start by signing in online or the Etsy app. Go to your purchases. Click "contact the shop" next to the order you would like to return. Let the seller know that you would like to return the item. Using Etsy Messages, discuss with the seller where to send the item and who will be responsible for postage.
If the seller doesn't do returns and contacting the seller isn't getting you what you want, you can open a case with Etsy if the product wasn't as described in the listing.
BONUS! Pick up a Budget Tracker for Yourself!
Let's face it, with all those gifts to buy, new decorations, extra food, and travel (if we're doing that this year) – the holidays are prime time for debt. Pick up a fabulous Christmas budget tracker like this one from Bo at Unatseco. This amazing budget planner is compatible with Excel and Google Sheets, or you can print it out if you prefer pen and paper.
Set you budget and track your spending in a range of categories, such as gifts, food, or travel. Then create custom groupings, such as family, friends, and other relatives.
You can also track who you've sent a Christmas card to, gift ideas, and other notes. Plus a PDF printable Wish List! Print out a copy for each member of the family. No more guessing what your spouse wants this year.
See whether you're over or under your spending target in a glance! All for under $7. And this is a downloadable product, so you'll get it within minutes of your purchase. No waiting for delivery.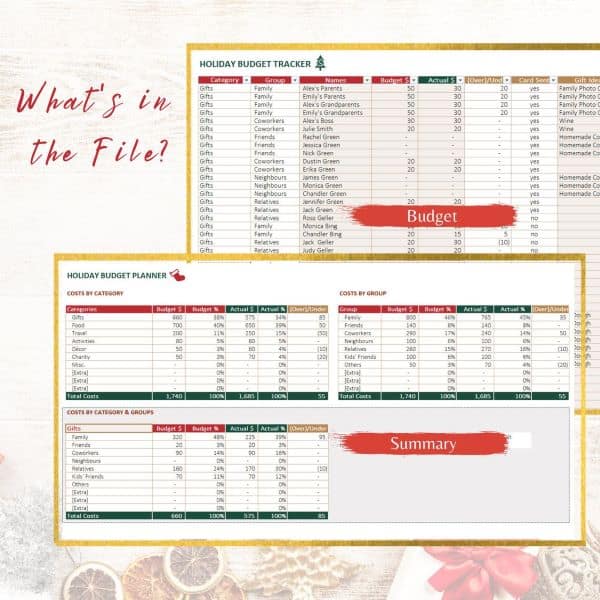 "Wrap Up" your Holiday Gift Shopping at Etsy
Christmas shopping online at Etsy not only allows you to avoid crowded shopping malls. You can put your values into actions by supporting small creators rather than mega corporations. Shopping local keeps your money in your community. Looking for eco-friendly designs supports our planet. And best of all, these personalized or one-of-a-kind unique gifts will be sure to light up their eyes when they unwrap it.
---
$10 Etsy Gift Card Contest!
UPDATE: The contest has concluded and the lucky winner has been notified by email.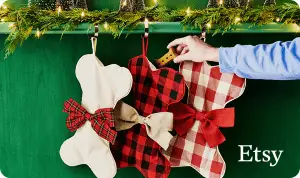 I'm so excited to be able to give one of my lucky readers a $10 Etsy gift card! Please note that the funds are in Canadian Dollars. I believe that if you are shopping on Etsy outside of Canada, you can still use the gift card and it will convert to your local currency. But I'm not 100% sure about this.
Contest closes November 24th. The winner will be chosen at random.
I will notify the winner privately on November 25th, which gives you one month to use it for your Christmas shopping! Or save it and buy yourself something special.
---
Want to read more Christmas related articles on Money In Your Tea?
The start of a new year is always a time for reflection on the past year, and anticipation of the year to come. For some…