I'm going to let you in on a little secret. I don't think anyone ever is 100% satisfied with their personal finance situation. We all have plans, whether it's saving for a down payment, investing for retirement, or paying down debt. Even just feeling more confident that we're on the right track! But here's the thing. No one ever reaches their goals by accident. Personal finance printables and budget binders will help you track and achieve your goals!
Types of Personal Finance Goals
Short-term personal finance goals might include setting a budget, starting an emergency fund, or reducing how much you pay for your internet and cell phone bills. Medium-term goals could be paying off several credit cards or a student loan, saving for a down payment or budgeting for a wedding. While long-term financial goals include investing for retirement, or paying off your mortgage.
Make Specific Personal Finance Goals
If you want to reach a goal, it helps to make it SMART. What does that mean?
S – specific
M – measurable
A – achievable or attainable
R – relevant
T – time-based
Which of the following two goals do you think are more likely to be a success? "I want to save more for retirement." Or, "I want to transfer $500 from my chequing account on the 1st day of every month into my retirement investment account each month of this year."
While "saving more for retirement" is a nice idea, there is no plan here or any way to hold yourself accountable. The second goal includes a specific and measurable action plan, of transferring $500 on the 1st of each month. You can do that manually or set up automatic payments with your bank. We've also set a time limit, of doing this every month for the entire year.
---
Related Reading:
---
But SMART Goals aren't Quite Enough for Success
We need to be able to track our progress. In part this will remind ourselves visually that we've made this commitment to a goal. It's so easy to forget our New Year's Resolutions and our goals, and months later think, "whatever happened to my goal? Oh well! Maybe next year."
By tracking our progress towards our goals, we not only get that visual reminder, but we also get an incredible feeling of achievement! Imagine you're trying to save up $5,000 for your winter vacation, and your savings tracker is 87% filled in! You've almost made it! You can visualize yourself lying on the beach with a margarita in hand, the warm sun on your face. (Okay, maybe that's my dream vacation goal!)
Tracking your Goals with Personal Finance Printables
You can buy budget trackers and personal finance organizers online from shops like Amazon. But these are consumable products. What I mean is, you write in it and it gets used up.
The amazing thing about printables, is that you get the electronic files, either PDFs or spreadsheets, and you can print them off as many times as you like!
Etsy is a well-known online marketplace. Probably the first thing that comes to mind is handmade crafts such as jewellery, home decor, children's clothes, and so on.
But did you know they are also a huge e-commerce site for personal finance printables? And because they are electronic files, there is no need to wait for shipping. You'll only lose motivation or get busy with something else. With these, as soon as your transaction completes, you get the download! Print it off right away! And when you shop on Etsy, you pay in your own currency. As a Canadian, I always like online shopping in Canadian dollars rather than having to figure out the conversion.
See also 7 Great Reasons to Shop Online at Etsy for Holiday Gifts
My Favourite Budget and Personal Finance Trackers
You can find a wide range of personal finance printables and debt trackers on Etsy. I've highlighted some of my favourites for you here.
Debt Payoff Goal Thermometer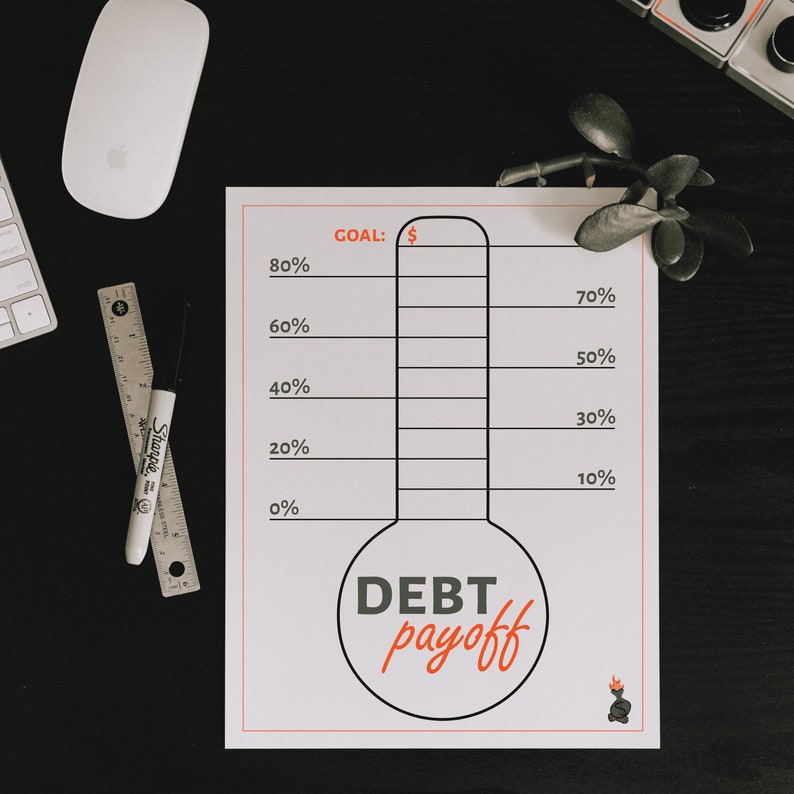 This straightforward debt payoff thermometer from Samantha at HowToFIRE is a single page tracker for any type of debt. The price is a bargain at about US$2, and is currently on sale for 50% off! Simply write in your debt payment at the top, and the 10% increments up the side. Colour it in as you go!
Check out the rest of her Etsy shop for specific debt payoff trackers for credit cards, student loans, car loans, mortgage, and more.
Budget Planner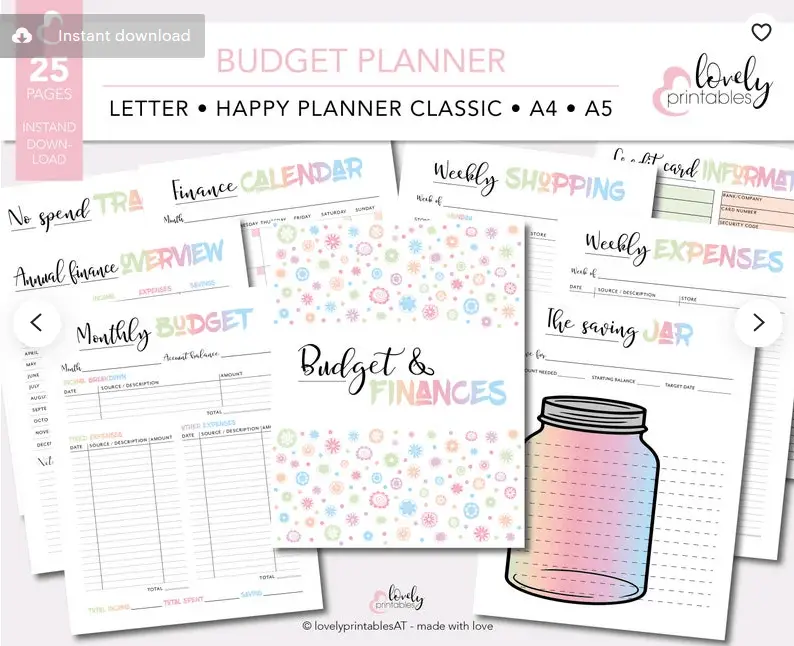 One of Etsy's Bestsellers is this beautiful pastel budget planner from Denise at LovelyprintableAT. It includes 25 pages of budgeting, income and expense trackers, debt repayment, savings trackers, and more. Denise has over 290 reviews and an average of 5 out of 5 stars!
"This bundle is everything. I have been searching high and low, and finally! The perfect budget/finance planner bundle! It has everything that I specifically have been looking for and looks so sweet and sleek. Thank you!!"

A Happy Customer, from LovelyprintableAT shop
Financial Accounts Package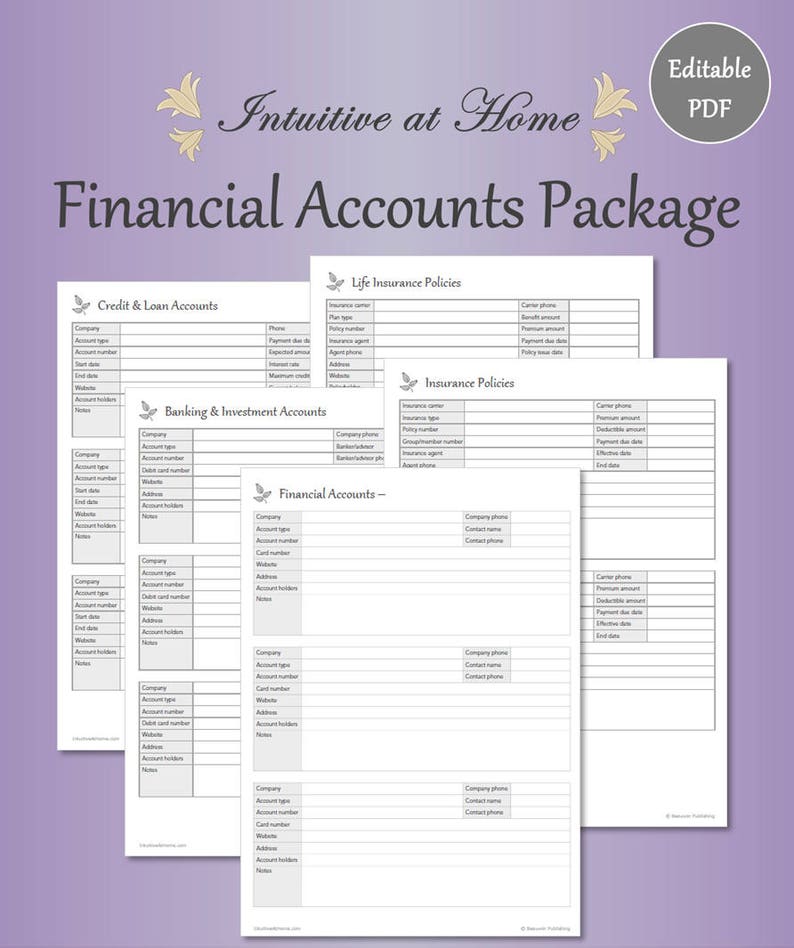 Organize all your personal financial information at home with this comprehensive financial accounts package by Cassandra at IntuitiveAtHome. These are fillable PDFs, which means all documents have fields that can be completed digitally. So you have the choice of filling in all the fields on your computer and saving it to your hard drive or the cloud. Or you can print it out and fill in by hand, like any other printable product. No special software is required, simply the usual free Adobe Reader for PDFs.
This package includes pages for banking and investing, credit and loans, insurance policies that protect your home, car and family, goal trackers, organizers, and much more.
The Complete Life Binder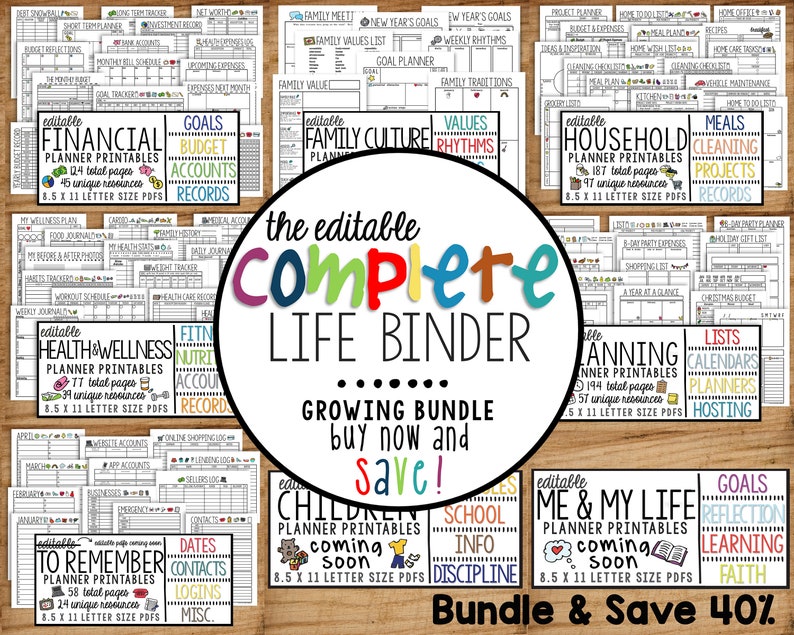 The complete life binder by Michaella at aMOMonaMISSION is for anyone who wants to overhaul and organize every aspect of their life. This Etsy Bestseller includes 9 sections: finances, family culture, household, health & fitness, planning, to remember, children, personal, and travelling. Each of these sections is further subdivided. Note that 6 of the sections are available now, and the remaining 3 sections will be delivered to you as Michaella completes them (anticipated releases all in 2020). The set is currently a full 689 pages and growing! The financial planning section alone is 124 pages, including debt snowball, net worth tracker, monthly bill schedule, bank accounts, and much more. Other sections include a meal planner which helps to lower your grocery bill, and a Christmas budget to help you finish the year debt-free.
Many of the pages are editable, which means you can add text to the PDF within the free Adobe Reader program.
If you like what you see but don't want all the sections, check out her full shop where you can buy items individually. However, you save 40% by getting the complete package. In fact, if you purchase only one section today and wish to upgrade to the complete set later, simply message Michaella and she'll send you a coupon code for the amount you've already spent!
She has over 140 reviews with an average rating of 5 stars! Here's what one happy purchaser had to say: "I ordered the financial planning kit and then upgraded to the complete life binder when I realized how great these are. Not only are the forms adorable and SO helpful for me to organize my life, but the creator/seller is also great and super responsive to questions and requests for custom work. It's definitely worth the money!!"
Finance Goal Success!
Achieving your financial goals is tough work. But making them SMART goals and following through with a printable tracker will keep you on the path to success.
---