If you've never made any kind of preserves before, this easy recipe for classic sweet pickle relish is a great way to get started. It tastes even better than the store bought stuff, and avoids food dyes and unpronounceable ingredients. It is shelf stable, so you can make this sweet pickle relish once and enjoy it all year!
Not for you? See all my free recipes!
This post may contain affiliate links, which means I make a small commission if you decide to purchase something through that link. This has no cost to you, and in some cases may give you a discount off the regular price. If you do make a purchase, thank you for supporting my blog! I only recommend products and services that I truly believe in, and all opinions expressed are my own. As an Amazon Associate I earn from qualifying purchases. Please read my disclaimers for more information.
Why Make Your Own Sweet Pickle Relish?
Much Cheaper than Store-Bought
At Money In Your Tea, we're all about being conscious of what you spend you hard-earned money on.
While prices of ingredients will vary depending on your location, I'd estimate this works out to under $1 per jar. And if you grow your own cucumbers (or know someone whose garden is overflowing with them) you can eliminate the bulk of the cost right there!
Canning jars are reusable, you only need to buy the lids new each time. And they are so handy to have around the kitchen. I love using canning jars to mix a nice oil-and-vinegar salad dressing, and you can be confident it's not going to leak.
Real Food Ingredients
Here's the ingredient list for Heinz sweet pickle relish, straight from their website.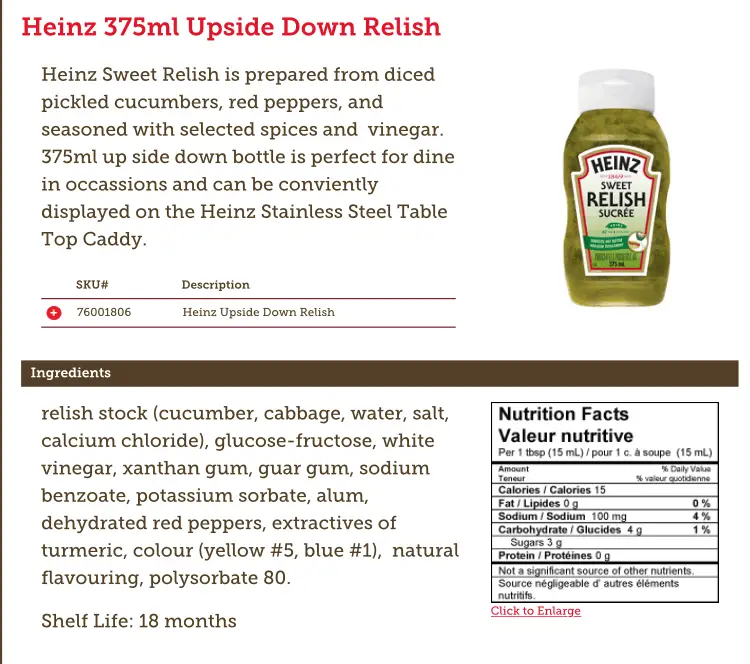 Did you anticipate the cabbage in there? I didn't expect that! And look at the yellow #5 and blue #1. It did NOT surprise me to learn that relish colour isn't natural.
Tools Needed for Preserving Food
If you've never done any canning or made jam before, there are a few things you'll need. Fortunately they are all reusable, so you only have to buy them once.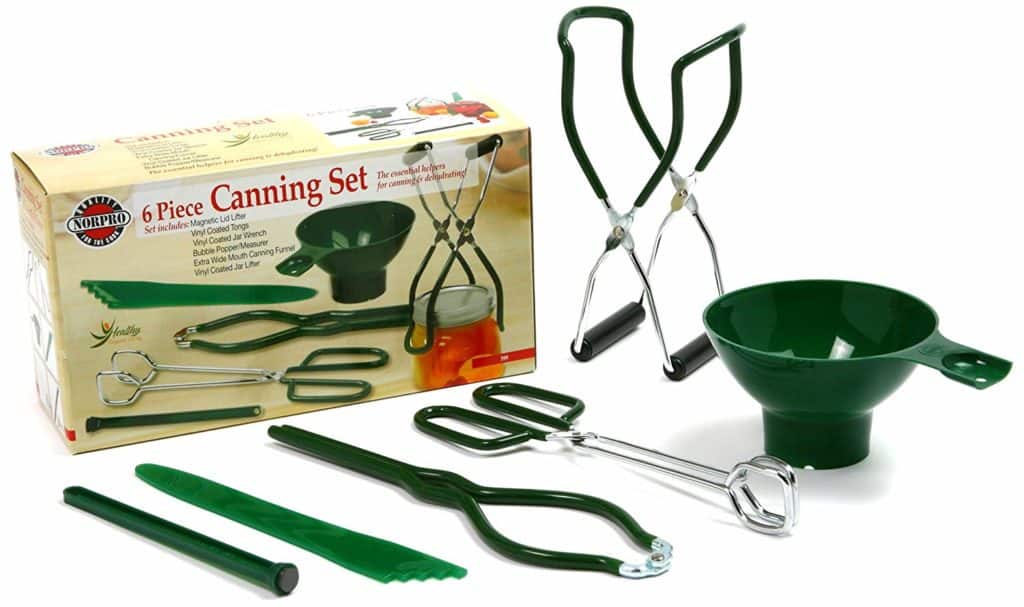 The first time I canned anything I tried to use regular kitchen tongs to pick up the jars from the boiling water. And pouring hot relish without a funnel? It's not worth it. Just buy this set and you'll have everything you need.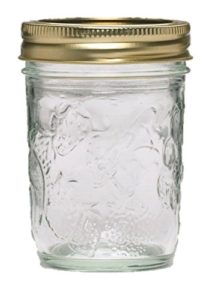 You can get this canning tools set from Amazon in Canada and Amazon in the U.S.
You'll also need some canning jars. If you have those already, you just need new lids. You can reuse old lids for storing things in the jars, or mixing something to use right away like salad dressing. But if you're preserving something to be shelf-stable and eat several months from now, you need fresh lids every time.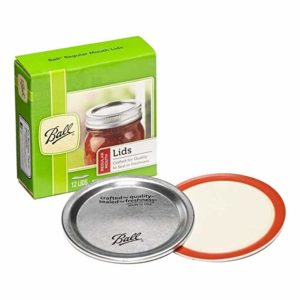 Other than these, you'll need a large pot to boil water to sterilize the jars and to process the jars after the relish is in them. This ensures an airtight seal with no bacteria. And another large pot to cook the relish. A ladle is also a good idea to scoop the hot relish into the jars.
Classic Sweet Pickle Relish
It took me about 45 minutes to chop the cucumbers, red pepper and onion. I let the vegetable/salt mixture sit overnight. Then it took another 45 minutes or so to make the vinegar brine, cook the relish, and sterilize and process all the jars.
Just look at how bright and green the chopped cucumbers look in step 6! And the smell is crisp and fresh. Yum!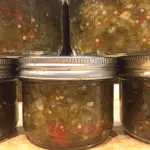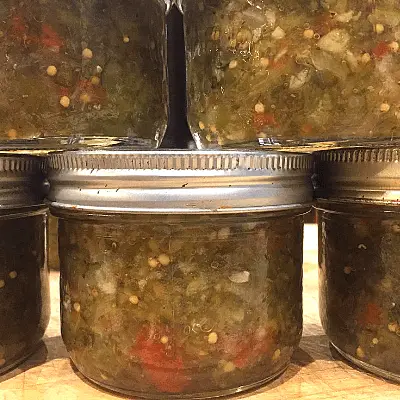 Print Recipe
Classic Sweet Pickle Relish
There's nothing better than a spoonful of sweet relish on a hot dog or burger.
Equipment
9-10 canning jars (1-cup size)
Ingredients
3

qt

pickling cucumbers

1

red pepper

1

onion

½

cup

coarse salt

2

cups

sugar, white

1½

cups

vinegar (either white or cider)

1½

tbsp

celery seed

1½

tbsp

mustard seed
Instructions
The chopped vegetables will need to sit at least 2 hours, or overnight, so begin in advance of when you want to make the relish.

Slice the cucumbers lengthwise into quarters. With your knife flat, cut out the seeds and discard them. Or you can scoop out the seeds with a spoon.

Chop the cucumbers into "relish-sized" pieces. I love to use my Nutri Ninja food processor for this with 3-4 pulses, but you could also chop with a knife.

Dice the red pepper. You can put this in a food processor, but it seems to make it more "juicy" than simply chopping with a knife. It doesn't matter for this recipe though.

Put all the chopped vegetables in a bowl. Add the salt, and mix well. Let stand a minimum of 2 hours, or overnight. It seems like a lot of salt, but we'll drain and rinse it so the final relish won't taste overly salty.

Start preparing your canning jars, by placing in a large pot of boiling water to sterilize. The water must cover the top of the jars. I like to use my spaghetti pot, so the jars aren't resting on the bottom of the pot.

Put the sugar, vinegar, celery seed and mustard seed in a large pot. Bring to a boil.

Drain and rinse the cucumber mix.

Add the cucumber mix to the boiling vinegar mix. Bring back to a boil, then simmer for 10 minutes.

Remove the jars from the boiling water – carefully! Place them on a heat-proof surface. I use a wooden cutting board.

Ladle the relish mix into the sterilized jars, with some of the brine, but not all or it'll be very soupy relish. Just enough liquid to make it look like store-bought relish.

Put the canning lids on the jars. Screw on the rings until just a bit tight. The rings are just to hold the lids in place.

Carefully put the jars back into the boiling water. Boil for 10 minutes.

Carefully remove the jars and place back onto your heat-proof surface. All the lid centres should "pop" down over the next few minutes. If you have any that did not go down, simply wait for them to cool and put them in the fridge to use first. As long as the lids are down, the jar is sealed and no bacteria can get in. It is safe to store these jars on the shelf until you need them.
---
Read all my free recipes for more money saving and delicious ideas!
Let me know in the comments if you've tried it!