This colourful heirloom tomato salad is simple enough for family dinners, but pretty enough for company! Ripe, juicy tomatoes pair with sweet basil and tart balsamic vinegar for a side dish your family will want again and again.
Not for you? See all my free recipes!
This post may contain affiliate links, which means I make a small commission if you decide to purchase something through that link. This has no cost to you, and in some cases may give you a discount off the regular price. If you do make a purchase, thank you for supporting my blog! I only recommend products and services that I truly believe in, and all opinions expressed are my own. As an Amazon Associate I earn from qualifying purchases. Please read my disclaimers for more information.
Sweet and Delicious Heirloom Tomatoes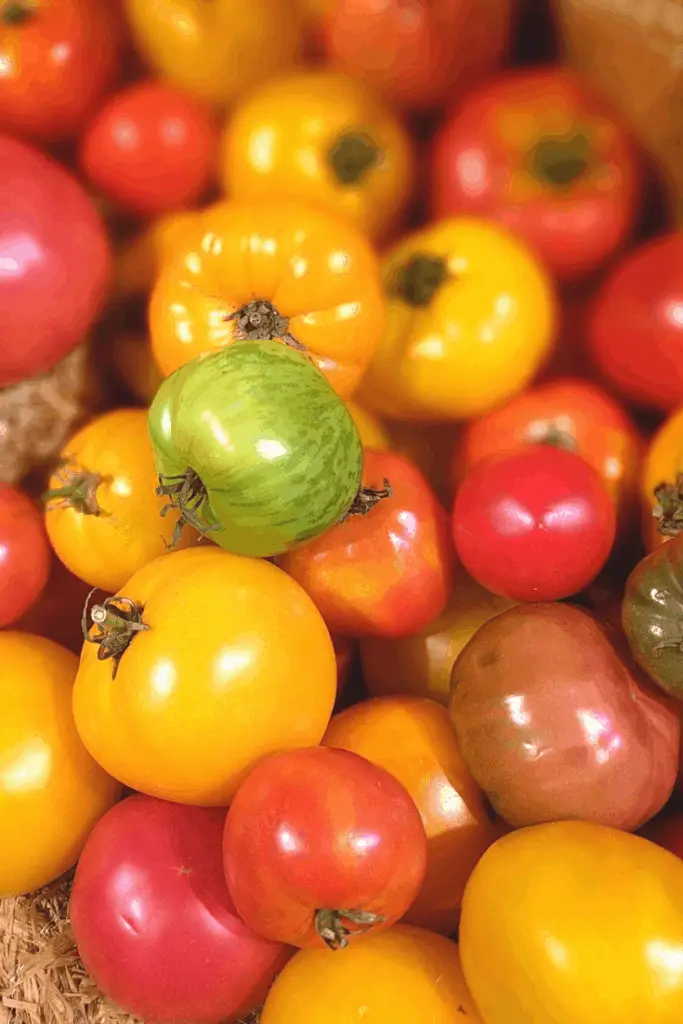 Choose a mixture of heirloom tomatoes for a variety of colours and sizes and shapes.
You can make this salad with only grape-sized tomatoes, just large tomatoes, or a mixture for greater variety.
Remember when buying tomatoes that they should feel firm to the touch. Soft or slightly wrinkled tomatoes will be mushy and mealy. Not good!
When you chop them, slice small ones in half, some lengthwise and others across. Chop bigger ones into bite-sized chunks. But not as small as salsa. This gives a nice variety to the salad.
To make this Heirloom Tomato Salad vegan, simply omit the honey or substitute maple syrup or other liquid sweetener.
Store any leftovers in an airtight container in the fridge.
Print Recipe
Heirloom Tomato Salad
A colourful tomato salad, simple enough for family dinners but fancy enough for company!
Ingredients
2-3

lbs

heirloom tomatoes, mixed colours, sizes, and shapes

¾

tsp

salt

1

clove

garlic

2

tbsp

olive oil, extra-virgin

1

tbsp

balsamic vinegar

½

tsp

honey

1

tbsp

basil (dried or fresh)

pepper, to taste
Instructions
Chop the tomatoes into bite-sized pieces. Place tomatoes into a colander sitting over a bowl, and sprinkle with salt. Give the tomatoes a gentle shake to mix the salt around. The salt will draw the moisture out of the tomatoes and drain away. Your salad will not taste too salty!

Let sit for 15 minutes; then discard any juice that comes out of the tomatoes.

In the meantime, peel and crush the garlic in a garlic press, or chop finely. I like to make my salad dressing in an old jam jar, so I can give it a good shake to mix the oil and vinegar, but you can also blend it in a bowl.

Add the oil, balsamic vinegar and honey to the garlic, and mix thoroughly. The honey is an emulsifier that will help keep your vinaigrette from separating. It also adds a nice touch of sweetness to counterbalance the acidic vinegar and tomatoes.

Try a little taste of the salad dressing an adjust as desired. I like mine with lots of balsamic vinegar.

Give the tomatoes a gentle shake to get out any remaining juice. Then place the tomatoes into the salad bowl, from the colander. Sprinkle with the basil. If you're using fresh basil, you should double the amount to 2 tbsp.

Pour the salad dressing over top and toss to blend. Add pepper to taste.
This recipe was originally inspired by Jamie Oliver's The Mothership Tomato Salad, as seen on The Food Network.
---
Read all my free recipes for more money saving and delicious ideas!