A reader recently contacted me, asking, "Do you think you're ever too old to go back to school?" I was asking myself this question about 8 months ago. There are many reasons why people consider upgrading their education, or heading in a different path, and the answer to this question is complicated.
This post may contain affiliate links, which means I make a small commission if you decide to purchase something through that link. This has no cost to you, and in some cases may give you a discount off the regular price. If you do make a purchase, thank you for supporting my blog! I only recommend products and services that I truly believe in, and all opinions expressed are my own. As an Amazon Associate I earn from qualifying purchases. Please read my disclaimers for more information.
Reasons Why People Consider Going Back to School
There are many reasons why people consider going back to school in their late 20s, 30s, 40s, or older.
Upgrade skills they need for their current job.
Upgrade skills to get a promotion within their current company.
Returning to the workforce after an absence of several years, such as full-time parenting.
Unhappy in their current profession.
Finish a degree or diploma that they started years before and left school before graduation.
Earn more money with a higher-paying profession.
Didn't know what you wanted to do with your life at age 18, but now you do.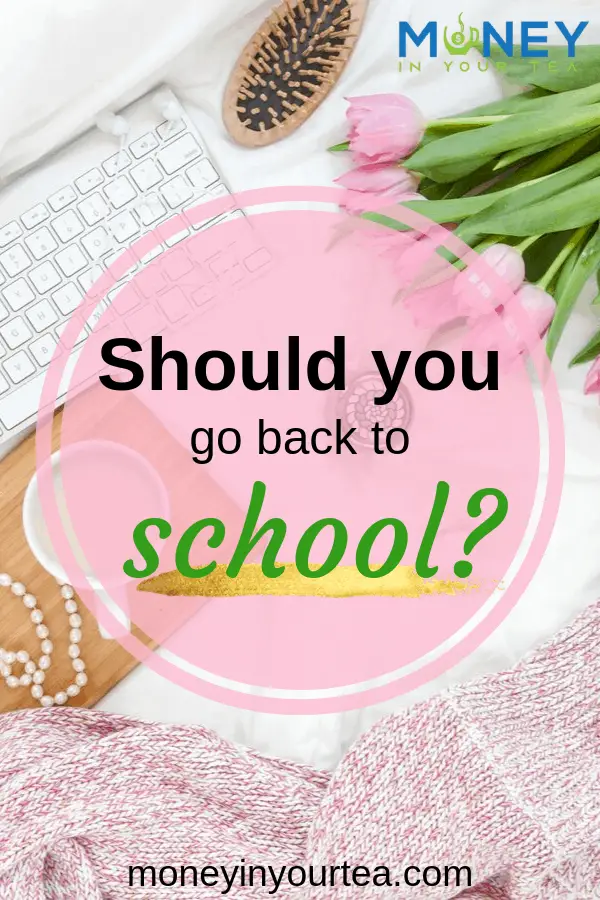 My Situation
My Education and Early Career
I graduated in the mid-90s with an MA in Economics. I worked for a few years as an Economist, in Toronto. After getting married and having our first child, we were really unhappy with leaving our daughter in daycare for 10 hours every day. She was constantly sick, and we were run down.
I was able to find a job as an Economic Researcher working part-time from home, and did that for several years and one more child. But by then we needed a part-time nanny so that I could work 4 hours per day. There wasn't much left of my income after paying her.
After child number 3, we decided that I would be a full-time parent, and that we were going to homeschool our children. I still homeschool our youngest daughter, who is now 10.
Going Back to Work
About 3 years ago, I was offered a very small part-time contract job, about 10 hours per month, working for a Canadian economic non-profit organisation.
Early in 2019, I felt I needed to do more.
I applied to a few job ads, that didn't progress past an interview. To be honest, I no longer have the skills that I did 15 years ago. I used to be able to program econometric equations in a variety of programming languages. But the industry has moved on to new programming languages and I've forgotten the ones I used to know.
Should I go back to school, in my late-40s? I would be over 50 at graduation, depending on my course of study. Would anyone hire me, new to an industry, at that age? And would less than 15 years of work (if I retired at 65) be enough to pay for the cost of going back to school plus a decent income? It would also incur extra costs – a office attire, transit to work, and likely help with cleaning and more eating out or ordering in after a long day of work.
What did I do?
I considered these questions carefully. And I came to the conclusion that for me, it would not be financially worthwhile to go back to school.
In the end I decided to become a personal finance blogger. All the blogs I read said how easy it was to earn $2,000-$3,000 per month, and some were earning $7,000-$10,000! It turns out it is not easy. Or fast. To date, after 4 months of blogging, I've earned less than $50, and none of that has built up enough to be paid out. On the other hand, blogging is a hobby that doesn't have a lot of costs, either.
Then I was offered more hours in my current position. And a complimentary contract position working for the local chapter of the same organisation. I now work 30-90 hours per month, mostly from home. And I have been able to continue homeschooling my daughter, which I would have had to give up if I were going to school or working full-time.
Taking these larger contracts meant that I haven't been able to dedicate as much time to my blog as I would have liked. I could have grown it faster if I put more time into it. On the other hand, the contracts pay me more than blogging does!
Can You Afford to Go Back to School?
You're Already Financially Independent
If you have enough money saved and invested to easily support yourself indefinitely, you can stop reading right here and enroll today.
It doesn't matter if you are 35 or 75, if you have the funds available and you want to go back to school, go for it!
You're Not Financially Independent
If you do not have money saved up for going back to school, then how do you know if it will be worth the cost?
The Costs of Higher Education
Tuition
Textbooks
Other school supplies, including binders and paper, laptop or computer if you need to upgrade, and items specific to your program such as tools for a plumbing program
Transportation and parking
Childcare, if applicable
Increased cost of food if you will eat out more often or buy prepackaged foods rather than cooking from scratch
Foregone Income
If you are currently working, will you have to scale back your hours or quit in order to go back to school? How much income will you lose.
Sources of Income While in School
If you are going back to school to upgrade your skills with your current employer, will they pay for some or all of your tuition and expenses?
Are you eligible for scholarships?
Are you eligible for provincial/state or federal loans or grants?
Do you have any funds remaining in your RESP or other education savings plan?
Can you hold a part-time or full-time job while also going to school? If you're working full-time, perhaps you will choose to go to school part-time. Executive MBA programs are typically designed to be taken while working full-time.
Will you be able to work full-time during summers off, while in school?
Does your program include any paid co-op or internship terms?
Is there a military program that interests you? They will often pay for your education and pay you a salary, in exchange for a few years of paid service after you graduate. As a bonus, after your military service you will have great experience to put on your resume for a civilian job.
Other sources of funds?
---
Related Reading:
---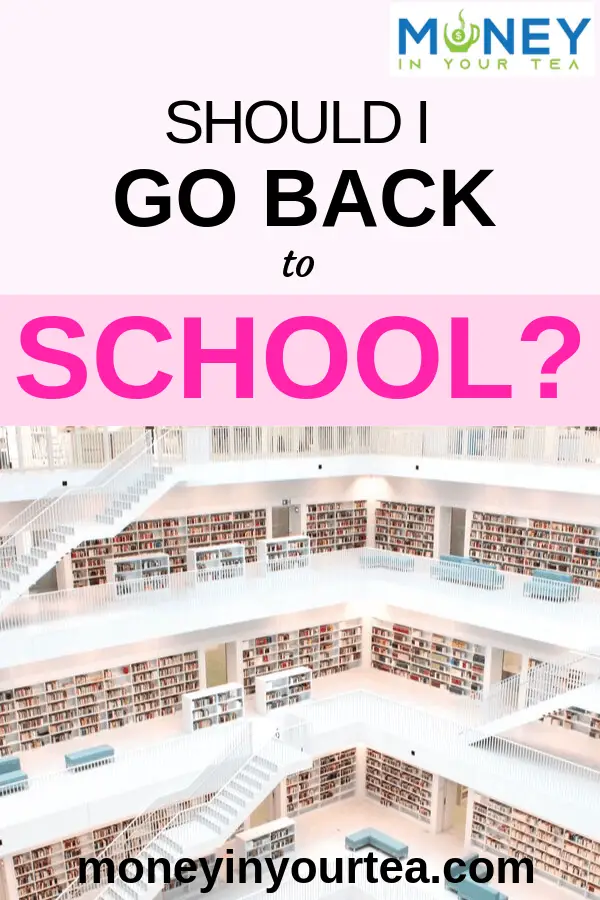 Costs of Working after Graduation
Interest and principal payments on student loans
New work attire
Transportation and parking to work
Childcare, if applicable
Increased cost of food if you will eat out more often or buy prepackaged foods rather than cooking from scratch
House cleaning if you will need to hire help
Annual accreditation fees or continuing education required for your field (e.g., current CPR certification, certified accountant, etc.)
Income after Graduation
And finally we're at the sweet spot, the reason you are considering putting in years of work. You need to know the typically starting salary for someone in your field of study. Not the average salary, which includes people who have been working many years. What is the starting salary for new graduates.
Secondly, what are the hiring conditions in your preferred field of study? If the government is tightening the purse strings and has a hiring freeze on teachers, going to teachers' college may not lead to employment.
Lastly, how many years will you continue in your new profession? If you will be 50 at graduation and plan to retire at 60, you have only 10 years to pay off the cost of going back to school. If you will be 30 at graduation and plan to retire at 60, you have 30 years ahead of you. When thinking of how many years you intend to work, consider if it is a physically demanding job that you will be able to do long-term.
What if it Doesn't Work Out?
If you start going back to school, and realize that it is not what you originally thought, give yourself permission to change your mind.
You have learned a valuable lesson that it's not the right thing for you. If you hadn't tried, you would have always wondered what might have been. But now you have the assurance that a different path is better for you.
In all likelihood, you'll end up with something much better and be really glad you didn't stick it out.
---
Do you have a question you'd like me to answer? Send me an email at kari@moneyinyourtea.com!