It's very convenient to purchase things you want online, rather than driving to the mall. Especially now, when we're trying to avoid crowds during COVID-19. Online shopping has been growing for years, but got a real boost in 2020 – especially Amazon. But what do you do if your delivery doesn't work out? Maybe the gardening gloves you bought yourself are too small. Or the gift you received from your aunt just isn't your style. On a rare occasion, something will arrive broken! How can you return unwanted items to Amazon?
This post may contain affiliate links, which means I make a small commission if you decide to purchase something through that link. This has no cost to you, and in some cases may give you a discount off the regular price. If you do make a purchase, thank you for supporting my blog! I only recommend products and services that I truly believe in, and all opinions expressed are my own. As an Amazon Associate I earn from qualifying purchases. Please read my disclaimers for more information.
How to Return an Item YOU Ordered
Log into Amazon.com (U.S.A.) or Amazon.ca (Canada) and go to Returns and Orders, in the top-right corner.
You'll see a list of orders that you have placed, with the most recent one on top.
Next to the order with the item you want to return, you'll see a list of options. One of these will either be "Return Items" or "Return or Replace Items" if replacing is an option for at least one item in the order. Click that button.
This will open a new screen with all the items you ordered. Click the box next to the item(s) you want to return.
A box will ask you why you want to return that item. Choose the reason you are making the return, and you will have the option to add a very brief (200 character) description. Do NOT put your name or contact information into this box.
Click "Continue" on the right.
Select whether you want a refund or replacement item, if applicable.
Amazon sellers can review your return request before issuing a refund or replacement. You should hear back within a couple of days. (If you don't hear back, go to "About A-to-z Guarantee")
Select your preferred return method.
Print your return label and authorization.
Pack your item securely, and follow any additional return instructions.
You can track your return under "Returns and Orders" on the Amazon website.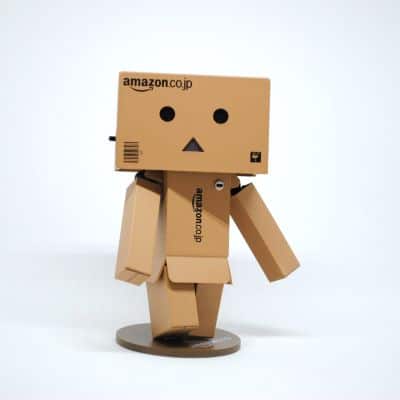 Returning Multiple Items to Amazon
On the Amazon website, go to Returns and Orders, in the top-right corner.
Select the order with the items you want to return.
Click "Return Items" or "Return or Replace Items" if replacing is an option for at least one item in the order.
Click the checkbox next to each of the items you want to return.
Add the reason you want to return each item, then click "Continue".
Each item you return gets its own return shipping label, so if you're returning multiple items you'll need to pack them separately.
How to Return a GIFT to Amazon
If the item was marked as a gift at the time of purchase, you can go to "Gift Returns" and enter the order number. The order number is a 17-digit code on the packing slip or digital gift receipt that came with your item. Follow the steps above to select the item you wish to return, the reason for returning, and so on.
If you do NOT have the order number, you can ask the person who gave you the gift. Alternatively, you can contact Amazon Customer Service. For faster service, please have the gift giver's email address, phone number, and/or package tracking ID if you have it.
If you are the gift recipient, your return will be processed as an Amazon Gift Card. It will be added to the account you use to generate the return.
If you are the gift giver, you'll receive a refund to your original form of payment.
Amazon gift returns in Canada work the same way as Amazon gift returns in the U.S.A.
How to Return an Amazon Ebook for Kindle
There are many reasons you might want to return your Amazon ebook for Kindle. Maybe you bought the wrong title or edition. Maybe you meant to get the paperback and selected ebook by accident.
While you could, technically, read the book quickly and then return it – please don't do this. It's unfair to the author who deserves to be paid. And if you do this repeatedly, Amazon could ban you from their store, without warning. If you want free books, just borrow them from the library.
Kindle ebook orders must be returned within 7 days of purchase.
Sign into Amazon with the same account that you made your purchase, and go to manage your content and devices to see your list of ebooks.
Select the "Actions" button next to the title you want to return.
Select "Return for Refund".
Select the reason for your return.
Tip! Parents can reduce the likelihood that their kids make accidental purchases by setting the parental controls.
Other Refund Requests
There are several other reasons you may want to request a refund:
Your package never arrived and it's past the estimated delivery date.
You received an order that was different than expected.
You returned your item but did not receive a refund or replacement.
Your item was sold by a third-party seller.
I had to submit a "Problem with Order" once. In March 2020, I ordered some socks for my daughter. A week later, the World Health Organization declared a global pandemic. Supply chains were severely disrupted. This was an item shipping from overseas. Initially the company promised that it would send my order. But after another month passed, I submitted the "Problem with Order" to Amazon Canada, and received a refund to my credit card right away.
I've Submitted my Return but I haven't Heard Back from the Seller
Once you have submitted your return request, the Amazon seller may take a couple of days to get back to you. What should you do if you've waited several days and still have received no response?
Log into Amazon.ca and go to Returns and Orders, in the top-right corner.
You'll see a list of orders that you have placed, with the most recent one on top.
Next to the order with the item you want to return, you'll see a list of options. Click "Problem with order".
Select your problem from the list. Select "Request Refund". Add any comments, and submit.
I've Submitted my Return Request and I'm still Not Satisfied
If you've gone through Amazon's return process and you're still not satisfied with the outcome, what can you do?
Most credit card have purchase protection guarantee. That is, when you purchase an item – whether in person or online – your credit card company may guarantee that. Simply contact your credit card company (Visa, MasterCard, or AMEX) that you used to purchase your Amazon item. They will need a few details about the transaction and why you are dissatisfied with the return process.
I have not had to do this for any Amazon purchases, but I have used this when another online purchase never showed up and the company didn't respond to my customer service requests.
Items that Cannot be Returned
There are a few types of items that cannot be returned to Amazon. These include hazardous materials, downloadable or open software, groceries, some health and personal care items. See the full list of items that can't be returned.
If you have a non-returnable item that arrived damaged please contact Amazon Customer Service.
Final Thoughts
Amazon is a huge multinational company. They want their customers to be satisfied, so that they come back and shop again. Their return process is straightforward and simple.