This delicious instant oatmeal cereal mix comes together quickly and easily. Just add boiling water, let it thicken for a couple of minutes, and voilà! A nutritious hot breakfast in minutes. The perfect meal for at home or on the campsite.
With 8 different flavor variations, there's something for every taste! Choose the traditional apple and cinnamon. Or be more adventurous with the pina colada mix. Strawberries and cream is perfect for summer days. And try the pumpkin muffin flavor for those dark winter mornings.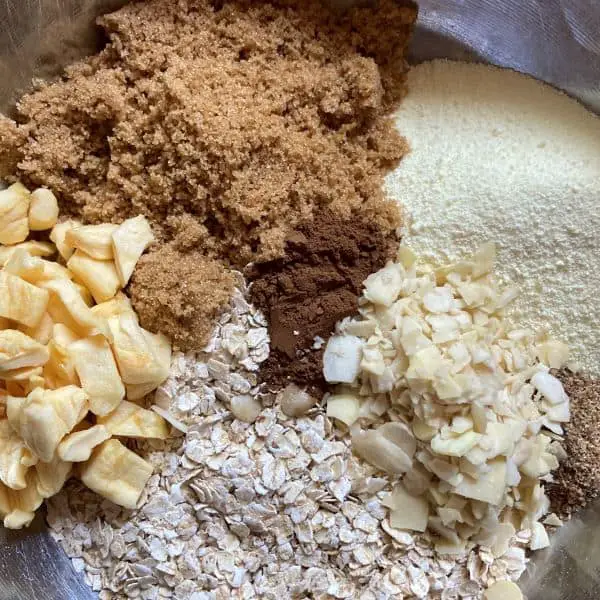 Why Make your own Hot Cereal Mix?
There are multiple flavors of hot oatmeal cereal easily purchased from any grocery store. But there are some great reasons to make your own:
Save money! Most pre-made pre-packaged foods are more expensive than making it yourself.
It takes only 5 minutes to assemble make-ahead hot oatmeal cereal mix.
Control how much or how little sugar you want to add.
Make it gluten-free or organic if you prefer.
Create the flavor combinations your family likes best.
Less package waste than store-bought single-serve packets of hot cereal.
Hot Cereal is the Perfect Camping Breakfast
If you're wondering what do people eat for breakfast while camping, this make-ahead hot cereal mix is a staple of every camping trip for our family. It's an easy camping breakfast idea when you're off the grid. There's no need to stoke up a big campfire – just boil water on your portable camp stove, and serve!
When you're back country camping, it's not practical to bring milk with you. You can't keep it chilled, and it's heavy and bulky to carry liquids. This easy make-ahead hot cereal mix includes a generous helping of powdered milk, which is an excellent source of calcium, protein and vitamin D. Your choice of skim milk powder or whole milk powder.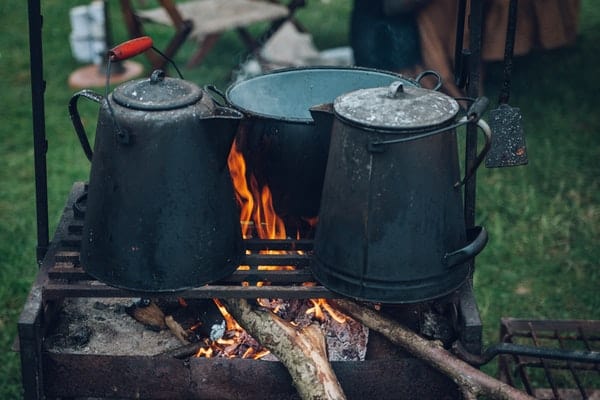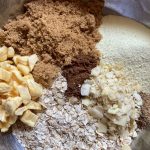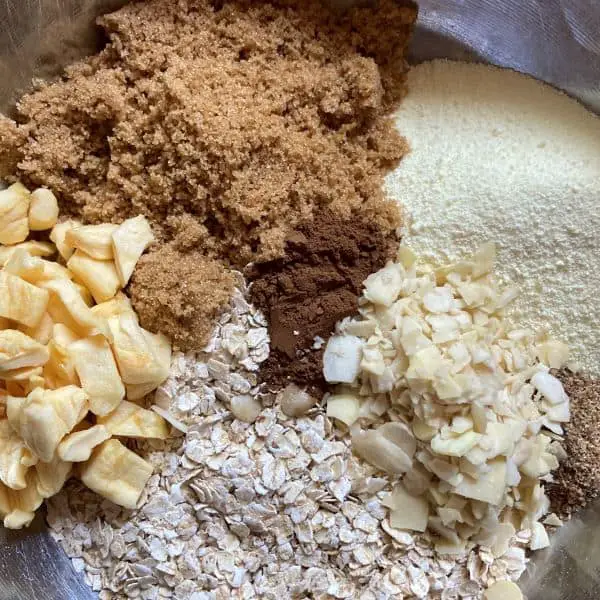 Print Recipe
Instant Hot Oatmeal Cereal Mix
Hot cereal is the perfect breakfast, whether you're at home or out camping.
Ingredients
32

oz

1-minute (quick) oats, gluten-free if desired

(equivalent to 1 large bag, or 2 smaller cans)

2

cups

powdered milk

2

cups

brown sugar

2

cups

dried fruit (your choice of raisins, dried apples, dried cranberries, freeze dried berries, etc.)

1

cup

nuts

(optional)

2

tbsp

cinnamon

2

tbsp

ground flax seed

(optional)
Instructions
In a large bowl, mix all the ingredients together.

The ground flax seed, also called milled flaxseed or flax meal, adds a touch of omega-3 essential fatty acids as well as fibre. And it's more easily digested than whole flax seed. But it's completely optional in this recipe and leaving it out doesn't affect the taste at all.

To serve, pour enough hot cereal mix into a bowl (about 1/2 full) and add boiling water. Let sit for about 2 minutes, while it thickens. Add more water if you prefer runnier hot oatmeal; less if you prefer thicker cereal.

For camping, scoop into a large Ziplock freezer bag. Remove any air at the top of the bag, and seal. Then put the bag inside a second Ziplock and seal again.

For home use, scoop into large Mason-style jars or a Tupperware style container.

Alternatively, make this a single-serving breakfast to go by scooping 3/4 cup of hot cereal mix into half-pint sized jam jars, leaving about 1" of space at the top. Just add boiling water, let sit for 2 minutes, and eat right out of the jar. Careful, the jar will be hot!

CAUTION: Please be careful pouring the boiling water, especially if you're camping and the bowl is unstable, sitting on a rock or log. Test for temperature before giving to children.
Notes
Variations:
Apple and cinnamon:  use 2 cups of dried apple rings for the dried fruit, sliced into bite-sized pieces.
Cranberry and almond:  use 2 cups dried cranberries for the dried fruit and 1 cup sliced or chopped almonds for the nuts.
Pumpkin muffin:  use 2 cups raisins and substitute pumpkin pie spice for the cinnamon.
Banana walnut:  use 2 cups dried banana slices and 1 cup chopped walnuts.
Maple pecan:  substitute maple sugar for the brown sugar, and use 1 cup of chopped pecans.
Berries and cream:  use 2 cups freeze-dried strawberries or mixed berries.  Substitute half the brown sugar with white sugar.
Pina colada:  use 2 cups dried pineapple chunks for the dried fruit (sliced smaller if necessary) and 1 cup coconut instead of almonds.
Candy stars or dinosaurs:  use 2 cups of small sugar baking sprinkles instead of fruit.  Cut the brown sugar back to 1-1/2 cups instead of 2 cups.  Fun for the kids and the kids at heart.  The sprinkles do tend to melt with the boiling water, so be sure the kids see them before you pour the water on.  Or keep the sprinkles separate from the mix and add just before serving.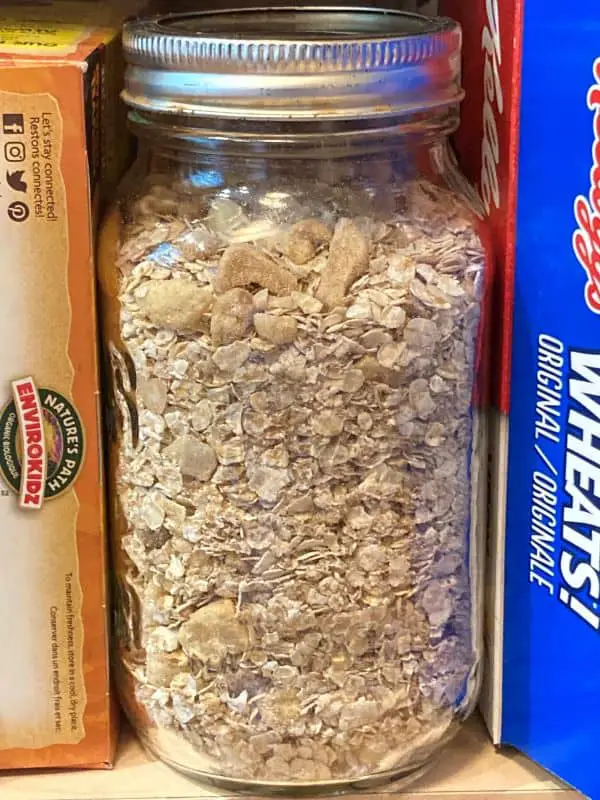 More Great Make Ahead Camping Recipe Ideas!
Wondering what else you can make ahead for camping? Check out my other great recipes that are perfect for camping!
Cinnamon hot chocolate mix is perfect for those damp and cool days. Pack it in 2 layers of large Ziplock freezer bags to keep it from spilling in your food pack.
And my delicious Granola Your Way can be made into trail mix by leaving it in bigger chunks, then increasing to 1 cup each of sunflower seeds, pepitas/pumpkin seeds roasted mixed nuts, apple rings, dried cranberries, and raisins; and adding 2 cups of M&Ms.
This post may contain affiliate links, which means I make a small commission if you decide to purchase something through that link. This has no cost to you, and in some cases may give you a discount off the regular price. If you do make a purchase, thank you for supporting my blog! I only recommend products and services that I truly believe in, and all opinions expressed are my own. As an Amazon Associate I earn from qualifying purchases. Please read my disclaimers for more information.